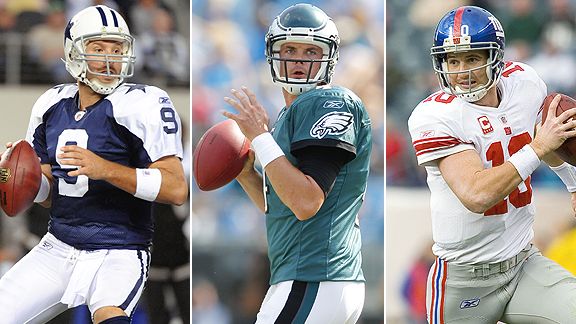 US Presswire
Will Tony Romo, Kevin Kolb or Eli Manning be leading the NFC East's top team in 2010? Matt Mosley takes an early look.One of the most important things to do when overreacting to a blockbuster trade within a division is to suggest one of the teams will leapfrog pretty much everyone in the league. And although I'm wired to have knee-jerk reactions in most phases of life, I've so far resisted the urge to elevate the Redskins to playoff contender status. Do they have a much better chance? Absolutely.
But in the spirit of wild, reactionary behavior, let's now handicap the most compelling division in football heading into this month's draft. I have analyzed all the free-agency moves and have looked at several of Mike Sando's NFL databases in my attempt to determine the early bird power rankings in the Beast. Now, here are the fruits of my labor:
My NFC East post-Easter, pre-draft power rankings:

1. Dallas Cowboys: The releases of left tackle Flozell Adams and Ken Hamlin, which may have been predicted in this space, caused shockwaves in the division -- until the move was trumped by Sunday evening's events. It's rare to see a legitimate Super Bowl contender release a perennial Pro Bowl left tackle and a veteran starter at safety. Jerry Jones looked me in the eye recently (for an awkwardly long time) and insisted that Doug Free was capable of starting at left tackle in this league. I took this to mean that Jones would release Adams, but it happened sooner than most of us thought.
I don't think Friday's moves did serious damage to the Cowboys' hopes of winning another division title, but it puts enormous pressure on Free and whomever replaces Hamlin at safety. Right now, the candidates are Alan Ball, Michael Hamlin and a player to be drafted later. The Cowboys are still the most stable team in the division heading into the draft, but I'm a bit concerned wide receiver Miles Austin has chosen to work out in Los Angeles rather than Valley Ranch. Hey, I realize the recent trip to Hugh Hefner's mansion had to be an eye-opening experience, but Austin should come on home at some point.
This may be a ploy to get Jones' attention since Austin's a restricted free agent set to make roughly $3.6 million while fellow starter Roy Williams will collect somewhere in the neighborhood of $13 million this season. And honestly, Austin and his agent, David Dunn, who showed nice separation skills from reporters at the recent owners meetings, have a pretty good point. But ultimately, I don't think staying away from Tony Romo and his other teammates will improve Austin's standing.
With that said, the NFC East title still goes through Dallas. Just ask Keith Brooking if you don't believe me.
Cowboys win prediction in April: 12

2. New York Giants: Our old friends from the New Jersey swamps have managed to fly under the radar this offseason -- other than that coin flip. General manager Jerry Reese has told me on three separate occasions this offseason the play at safety last season was unacceptable -- and I'm sure Giants fans would agree with that assessment. He's responded by signing former Cardinals safety Antrel Rolle to an enormous contract and then bringing in journeyman Deon Grant, who's a definite upgrade over C.C. Brown.
With Rolle, Kenny Phillips, Michael Johnson and Grant, the Giants have some much-needed depth at the position. But don't be shocked to see them draft another safety in two weeks. It's hard to say how much of the Giants' failures on defense had to do with all the injuries and how much of it hinged on poor play. I'd lean toward the former, but Tom Coughlin and Reese aren't going to sit around and find out. They need to replace Antonio Pierce at middle linebacker. And you can't simply hope that Jonathan Goff or Gerris Wilkinson will get the job done. If the Giants land Alabama linebacker Rolando McClain at No. 15, they'll have an immediate starter and one of the most intelligent players in this draft.
It's just hard for me to imagine the Giants going through another awful stretch, as they did last season. Wide receiver Hakeem Nicks is poised to become an electric player and Steve Smith proved that he can be a front-line receiver. Mix in Mario Manningham and Ramses Barden and you have the makings of an elite receiving corps. Right now, you'd have to say the Eagles and Giants are neck in neck at that position.
I also think the arrival of fiery defensive coordinator Perry Fewell will solve some issues. He'll be more aggressive with the pass rush and he'll attempt to use Osi Umenyiora's unease to his advantage. I also think you'll see a much healthier Justin Tuck. He was limited for most of last season after being tripped by Flozell Adams in the Week 2 game at Cowboys Stadium. I think Tuck's poised to have a huge bounce-back season. That's a big reason why the Giants will return to the playoffs.
Giants win prediction in April: 10

3. Philadelphia Eagles: First of all, I think Kevin Kolb is going to win a lot of games with the Eagles. But there will be bumps along the way. No one really knows how he'll look as the full-time starter, but he's shown signs he can get the job done. I think he'll immediately be a more accurate passer than McNabb, but I also know that opposing defensive coordinators will go to great lengths to confuse him in coverage.
Kolb will reach out to fellow Texan Drew Brees this offseason for advice on dealing with all the adversity he's sure to face. I think that's an excellent move. The Eagles will surround Kolb with some potent weapons at receiver and tight end. But what Andy Reid truly needs to do is commit to the running game. That will help an inexperienced quarterback more than anything. Will Reid do that? I have my doubts.
The Eagles need to add more depth in the secondary during the draft. You can't depend on Marlin Jackson, owner of two surgically repaired knees, to be the answer. I think the Eagles have to draft a safety and a cornerback in the early rounds. Of course, that No. 37 pick should really help. If someone like South Florida safety Nate Allen begins to slip a little bit, the Eagles should be ready to take him. I think defensive coordinator Sean McDermott will be much more comfortable in his second season. But with the Redskins becoming more of a force and the Giants likely bouncing back, finding 10 wins will be tough. Kolb will one day lead this team on a deep playoff run. But that won't happen in 2010.
Eagles win prediction in April: 9

4. Washington Redskins: No, it didn't slip my mind that Washington landed an elite-level quarterback. But count me among the skeptics who think playing behind an offensive line that could feature Mike Williams and Stephon Heyer isn't a recipe for a huge turnaround. When the Dolphins had a remarkable turnaround two seasons ago, they benefited from the rest of the division wilting down the stretch. I don't think the Redskins can count on any help from their division rivals this season.
McNabb will make the Redskins better, but he'll need to make them at least six wins better to have a shot at the playoffs. He's still an excellent quarterback and leader, but I don't see him making a six-win difference. Brett Favre inherited a 10-win team and the best running back in the game last season. McNabb inherits a four-win team and a collection of fading stars at running back.
I know McNabb took a jab at the Eagles when he said the Redskins will run the ball, but it's not like a young Brian Westbrook's walking through that door. Mike Shanahan won Super Bowls with a young Terrell Davis. He then put up huge numbers with backs such as Mike Anderson, who was the offensive rookie of the year in 2000. But most of the running backs who put up big numbers for Shanahan were young and hungry. Clinton Portis, Larry Johnson and Willie Parker are just holding on to their careers for another two or three seasons. McNabb needs to win nine games (or go to the Pro Bowl) in order for the Eagles to receive a third-round pick in the 2011 draft. I don't see it happening at this point. This team will be much improved, but it''ll need more than that in the rugged NFC East.
Redskins win prediction in April: 8
Editor's note: Mosley reserves the right to completely change his mind following the draft.