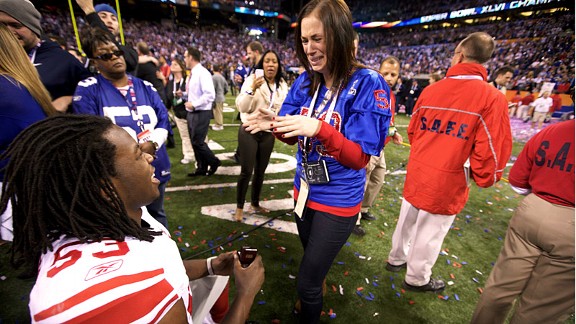 John Korpics/ESPN
Greg Jones proposes to his girlfriend, Mandy Piechowski, right after the Giants won the Super Bowl.INDIANAPOLIS –- Linebacker Greg Jones did more than just celebrate the New York Giants' Super Bowl XLVI win over the New England Patriots on Sunday night.
Shortly after the Giants beat the Patriots, 21-17, Jones proposed to his girlfriend, Mandy Piechowski, on the confetti-covered Lucas Oil Stadium field as the celebration was under way.
Click here to view a photo gallery of the proposal.
An emotionally overwhelmed Piechowski said yes.
"She was bawling," Jones said Monday morning before hopping on the team bus to head to the airport. "Just everything we have been through together ... she has been there since day one."
Jones, a rookie drafted in the sixth round out of Michigan State, has known Piechowski for three years. She played basketball at Michigan State, and the two became friends first but did not start dating until a year and a half ago. He purchased the engagement ring -- a brilliant round cut diamond ring with several smaller diamonds on the band -- recently and had been waiting for the right moment to pop the question.
When Piechowski ran onto the field looking for Jones to celebrate the Giants' win, she was already emotional. She began crying as soon as she found him and embraced him.
"But then he put me down pretty fast and I was like, 'Oh, OK,'" she said. "And then he is digging in his pants and I am like, 'What are you doing?'"
Piechowski had no idea what was coming.
"He pulls out a box and I am still not comprehending what he was about to do," she said. "First thing I thought of was their ring and that doesn't make sense. Then he opens it.
"We had talked about wanting to get married next year possibly but in terms of this happening last night, no not at all. I didn't know he had a ring."
Jones got down on one knee on the field and said, "Amanda Piechowski, will you spend the rest of your life with me?"
Despite a chaotic celebration going on all around them, Piechowski heard Jones as if they were the only two on the field.
"It honestly felt quiet for a second," she said. "I didn't even know what they were doing with the trophy [celebration]."
What a night it was for Jones, who decided to make the best night of his football career the best night of his life. He had tight end Christian Hopkins, who is on the Giants' practice squad, hold onto the ring until he proposed.
Jones said he didn't have a speech prepared for his proposal.
"She already knows how I feel," Jones said. "A speech wasn't needed."