It isn't clear if the newly-acquired Julius Peppers will line up at right or left defensive end for the Bears next season. He is equally as comfortable at either position. This is a bit of a rarity and the ability to move him on a play-to-play basis can make it difficult to get a consistent read on his tempo, get-off ability and pass-rushing arsenal. Peppers is obviously a physical marvel with tremendous size. He can anchor versus the run as a left end and can abuse protection schemes with his pure speed and athleticism from the right side. When at his best, there is little he can't do. So how does this affect the rest of the division?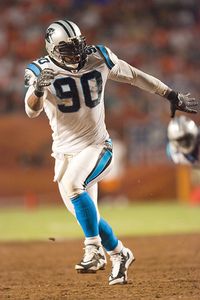 Michael DeHoog/Sports Imagery/Getty Images
Bears defensive end Julius Peppers will create matchup problems for division opponents.
In Detroit, Jeff Backus is someone whom many feel the Lions should replace, but he quietly played very well at left tackle. He isn't pretty and doesn't have the ideal body type for the position, but you could do far worse than Backus as a blind-side protector. But Peppers' length could provide Backus a lot of problems. I think it is very unlikely that Detroit goes anywhere but defensive tackle with its first-round selection, but Oklahoma State's Russell Okung is a possibility with that pick as a franchise-type left tackle. But surely a rookie would struggle with Peppers. Another former first-round pick, Gosder Cherilus, is a pure right tackle. Cherilus has been very up and down. Improvement is required on the right side, but it isn't too far-fetched to think Cherilus could progress in his fourth season, though really, you would think it would have come by now if it is going to come at all. Jon Jansen is a shell of what he once was, but could factor in on the right side as well. Peppers would feast on Jansen.
For the Vikings, massive tackles Bryant McKinnie and Phil Loadholt will return. Because of their sheer mass, you would expect these two to be better run blockers than in protection, but that wasn't the case last year. (Although some of that was because of the difficulty in sacking Brett Favre.) Peppers clearly has an advantage over either player and the Vikings probably will keep extra help to his side of the field on throwing downs.
The Packers had a ton of problems keeping Aaron Rodgers upright in 2009. But as Rodgers improved at getting the ball out of his hands and as Chad Clifton and Mark Tauscher got healthy and back in the flow of the game as the season went along, the overall protection improved. Clifton isn't pretty and is never mentioned among the better players at his position, but he gets the job done year after year and once again was very able as Rodgers' blind-side protector. Tauscher's quickness and agility have really waned and at this point, he gets by on technique, intelligence and grit. He is just an ordinary pass-protector and could be pushed by the more nimble and much younger T.J. Lang. But Lang was too often beaten in protection last year.
Overall, Peppers' ability to line up at either defensive end position is obviously an asset and flipping him from side to side throughout the game could provide problems for the Bears' opponents. The fact is that Peppers is a better football player than any offensive tackle in this division. Backus is the best of the group and Clifton is a strong player, but both will require help against Peppers. He could wreak havoc -- no matter which side he aligns on.