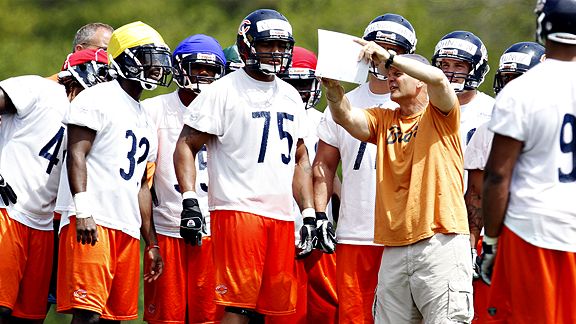 AP Photo/Nam Y. Huh
Chicago defensive coordinator Rod Marinelli (orange shirt) has to improve the Bears pass rush this offseason.Reviews for the Chicago Bears' rebuilt defense were overwhelmingly positive during last weekend's veteran minicamp. Defensive end Julius Peppers proclaimed himself at home. Cornerback Zack Bowman intercepted so many passes he dared reporters to write about them. The entire group was observed to have a confidence never present during a disastrous 2009 season.
Minicamp is a time for optimism, experimentation and -- most of all -- restraint. Drawing conclusions based on non-contact practices invites unwieldy expectations and a subordination of flaws. So one of the ideas I've kicked around this spring is developing a list of tangible goals the Bears' defense should be working toward.
I'll start the project today and will expect your input, either in the comments or through the mailbag. Ultimately, we'll create a working document to be revisited regularly during the season. I see it as one way to measure the impact of a significant offseason overhaul, one that could decide whether the Bears make the playoffs or start over in 2011.
Where to begin? One of the paradoxes here is a first glance at last year's basic statistics don't reveal clear targets. The Bears were in the middle of the NFL's defensive rankings last season, at No. 17 overall, and seemingly their issues against the pass were belied by their No. 13 rankings in yardage allowed and sacks. But ESPN's Stats & Information ran a series of more specific numbers that I think gives us a good starting-off point for this exercise.
As we've noted before, the Bears were one of the NFL's worst defenses last season in obvious passing situations -- third-and-8 or longer. Why did this happen? Why couldn't the Bears stop the pass last season when the whole stadium knew it was coming? A few other pieces of statistical analysis offer a connect-the-dot theory.
The Bears blitzed far more often last season than is typical for a traditional Tampa-2 scheme. In fact, according to ESPN's Stats & Information, their "extra pressure" rate of 42.3 percent was the fifth-highest in the NFL.
When you blitz that often -- be it with linebackers, safeties or even cornerbacks -- you better get there or at least disrupt the play. If you don't, you leave obvious holes in the second level of your defense. And last season, again according to ESPN's Stats & Information, the Bears were the NFL's second-worst defense against passes that were caught 10 or less yards downfield. Opponents completed 73 percent of those passes for 20 touchdowns and three interceptions.
So here's one way to interpret those numbers, which I stress is up for debate and subject to change before the season begins:
Ineffective blitzing = open mid-range receivers = easy third-down conversions
If the Bears want to reverse that trend, they need to find a way to cover those receivers more tightly.
Continuing to work in reverse, it probably means they need to pull back on their blitz frequency. And to do that, they'll need to feel more comfortable with the ability of their four defensive linemen to exert pressure on their own. From afar, that appears to be the goal of replacing both starting defensive ends, inserting Peppers and -- in all likelihood -- Mark Anderson.
If Peppers and Anderson can collapse the pocket more consistently, and if the attention Peppers receives can in some way free defensive tackle Tommie Harris to make a greater impact, new defensive coordinator Rod Marinelli won't feel compelled to blitz as often. He'll be able to spread linebackers and safeties more evenly through zones and theoretically shut down on mid-range space for opposing receivers.
What we can do is track those blitz numbers on a weekly basis relative to the pressure Peppers and Anderson put on the quarterback. We'll see if they help the Bears get off the field more often on third down and if it relates to tightening their back-end coverage.
To me, this is a good place to start. As we discussed for most of last season, the NFC North has transitioned into a passing division. In 2009, the Bears were 1-3 against the teams that finished ahead of them (Minnesota and Green Bay), giving up 1,077 passing yards and seven touchdown passes against one interception in those four games. They won't leapfrog either team in 2010 without slowing down quarterbacks Brett Favre and Aaron Rodgers, respectively.
More than anything, however, I want this to be a community project -- and not (only) because I want you to do some of my work. If we can come together on some other facets to track, we'll all have an investment in how it plays out. So let me know where else we should look. Consider this our own little OBA -- organized blog activity.