Based on our SportsNation poll earlier this month, about half of you want to see the Minnesota Vikings replace quarterback Christian Ponder next season. If you're one of them, be sure to take part in this week's Inside Slant podcast.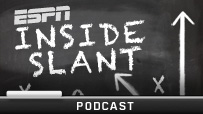 Mike Sando and I painted a pretty rough picture for any team looking to change directions at quarterback next season. The draft is weak, with only one consensus blue-chipper: West Virginia's Geno Smith. Meanwhile, about the only obvious starter who could be available via trade or free agency is the San Francisco 49ers' Alex Smith.
Those circumstances likely will give Ponder at least one more year to establish himself. And you've surely heard by now, he'll be doing it as a married man.
Yes, Ponder wedded ESPN reporter Samantha Steele in a Hudson, Wis., courthouse Monday. Reporters peppered Ponder with questions Wednesday about his focus as the Vikings prepare for Sunday's playoff-like game at the Houston Texans, but to me the entire "news" of his engagement and marriage has been silly.
In evaluating Ponder after the season, we won't give him the out of blaming it on his love life. And if he plays well Sunday and takes the Vikings to the playoffs, I hope no one stoops to the idea that getting married cleared his head. So where does that leave us? In the pop culture realm. I'll direct you elsewhere for that.
I'll grant you that players don't often get married during the season. But working people get married all the time. It's a "whatever" issue as far as I'm concerned.
Related: With all that said, I had to laugh at this photograph from a Hudson, Wis., bar, which subtly suggests Ponder isn't as big of a deal as his wife.