Many of you lit me up for Monday's suggestion that the presence of quarterback Jay Cutler will make the Chicago Bears an attractive franchise for head-coaching candidates. You pointed out Cutler's flaws, many of which are accurate, but in my mind you ignored the barren quarterback landscapes in many other NFL markets.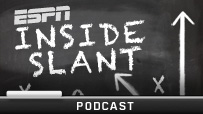 Regardless, I decided to take the conversation to our larger (sometimes) audience over at the Inside Slant podcast

. Mike Sando and I generally ranked the seven job openings based on how appealing they are, agreeing that the Bears joined the Philadelphia Eagles and perhaps Cleveland Browns at the top end of the list.
Mike pointed out what we discussed earlier this month: That the Bears have few established young players on their roster. In fact, according to Mike's research, they have five returning players under the age of 25. That means the Bears' next coach will preside over a significant roster overhaul. But he'll still be better off at the game's most important position than most of his first-year coaching colleagues.