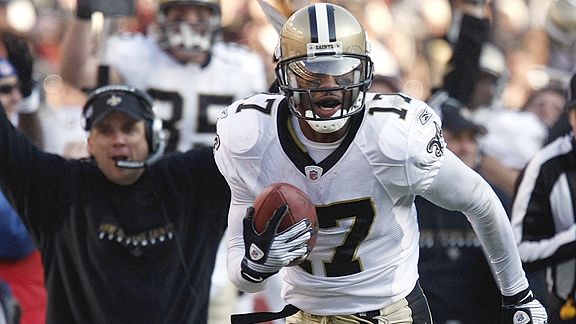 AP Photo/Gerald Herbert
New Orleans receiver Robert Meachem made a name for himself Sunday as he was a part of two critical plays in the Saints' 33-30 overtime win over the Washington Redskins.LANDOVER, Md. -- Go ahead and call the New Orleans Saints lucky.
I'm going to respond to that by throwing it over to Robert Meachem, because the Saints wide receiver has a simple, accurate response.
"It doesn't matter to us because we got a W,'' Meachem said.
Yes, this is what it has come to. Meachem, widely considered a bust in his first two seasons and never considered a media darling, has become a philosophical voice of reason. Maybe Meachem has had it inside him all along and we just never knew until Sunday when the Saints brought him into the postgame interview room, something normally reserved for coach Sean Payton and quarterback Drew Brees.
But Meachem officially became a star Sunday while earning a spot in Saints history, a history that's being revised seemingly every week.
Meachem had two of perhaps the top five or 10 plays in team history in a 33-30 overtime win over the Redskins, a victory that clinched the NFC South title and preserved the magical unbeaten run for New Orleans (12-0). The plays could become even bigger if this season goes where it seems to be headed. Meachem sent the game to OT when he caught a 53-yard touchdown pass from Brees, 27 seconds after Washington kicker Shaun Suisham botched a 23-yard field goal attempt. If Suisham made that kick, the Redskins would have taken a seemingly insurmountable 33-23 lead.
"I never thought it was over,'' Meachem said.
As corny as that may sound, it's the truth. Not just for Meachem, but for all the Saints. They got outplayed by a bad team almost all game and still won.
If you're going to have a special season, you have to be lucky and good at times. The Saints were good when they most needed to be against the Redskins and they were very, very lucky.
Meachem's highlight for the ages came with 39 seconds left in the first half and the Redskins leading 17-10. That's when Brees threw the best interception in franchise history, maybe the best interception ever. His pass for tight end Jeremy Shockey was intercepted by Kareem Moore. As Moore started to return the interception, Meachem cut through a couple of blocks, stripped the ball, picked it up and returned it 44 yards for a touchdown. The play stood up on replay.
Speaking of replays, timeouts and all-time Saints lists, we also probably saw the best timeout and best replay in franchise history.
They happened on the third play of overtime. Washington quarterback Jason Campbell, who thrived most of the day against an incredibly banged-up New Orleans secondary, hit fullback Mike Sellers with a short pass. Sellers initially was ruled down after he was hit by Chris McAlister. That's when Payton stepped in.
"I ended up calling a timeout just to slow things down,'' he said.
In overtime, decisions to review plays must come from the replay assistant. As he's been doing all season, Payton again pushed the right button with the higher powers.
Another glance showed Sellers fumbled and the play was overturned with McAlister getting credit for the fumble recovery at Washington's 37. The Saints drove down the field before letting Garrett Hartley, playing in place of John Carney on what basically was another great hunch by Payton, kick the winning 18-yard field goal.
"I don't think that would have happened if we didn't call the timeout,'' Payton said.
He's absolutely right. That's why I'm not so sure about all this talk about fate and destiny.
"I don't believe in that,'' Payton said. "I think you've got to make your own way in this league.''
Bash them for winning a game that they shouldn't have. Or blame it on the Redskins for giving the game away.
But credit the Saints for being good and lucky.
"I definitely believe in destiny, and I believe in karma and what comes goes around comes around,'' said Brees, who completed 35 of 49 passes for 419 yards. "We have been on the other side of this deal probably too many times. Maybe it's our time that we start catching some of the breaks and start being the team that wins them like this in the end. I feel like if you continue to do things the right way, then good things happen to you.''