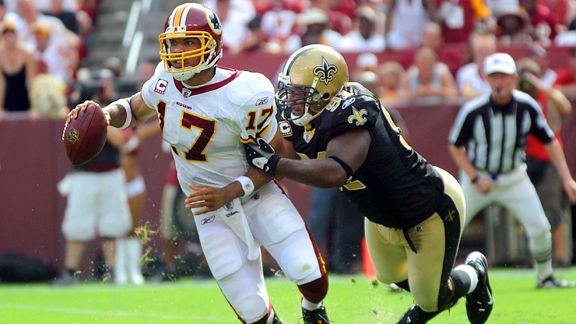 James Lang/US Presswire
New Orleans' Will Smith is the last member of a dying breed of elite NFC South pass rushers.
Once upon a time, quarterbacks couldn't blink against an NFC South defense. Next season, they might be able to take a nap out there.
To borrow a phrase from an old friend, "Who scares you out there, bub?''
Almost nobody in the NFC South. When it comes to pass-rushers, they seem on the verge of extinction in the division.
We'll start by singling out New Orleans' Will Smith. He's the best pass-rusher and best defensive end in the NFC South. He's probably the only guy who scares anybody these days and that's more than a little ironic because Smith used to be the guy with the underachiever label.
But Smith put those days behind him last season as he came through with 13 sacks to help the Saints win the Super Bowl. Now, ask yourself if any NFC South defensive end beyond Smith scares you.
If you're drawing a blank, good, you've got the right answer.
Now that Julius Peppers is leaving the Carolina Panthers and presumably the NFC South, there's a huge gap between Smith and the rest of the division's pass-rushers. Just look back at last season's sack totals. Peppers was second in the division with 10.5, which put him No. 10 in the league. After that, you have to scroll all the way down to No. 32 to find another NFC South player.
For the record, that's Stylez White, who wasn't even supposed to be a starter at the beginning of last season. He wound up with 6.5. The most telling stat of all might be that Atlanta's Jonathan Babineaux is next on the list of NFC South players with six sacks.
Babineaux is a defensive tackle and only three defensive ends from the division had more sacks. That says a lot right there, and the really scary news is that, even with Peppers, the NFC South wasn't a hotbed for sacks.
New Orleans tied for 13th in the league with 35 sacks. Carolina was tied for No. 23 with 31. Atlanta and Tampa Bay each had 28, which tied them with Seattle for No. 26.
Oh for the days of Simeon Rice, Patrick Kerney, Mike Rucker, Peppers and John Abraham. Oh for the days of anybody in the NFC South coming after quarterbacks with any consistency. How did it come to this?
Well, Rice and Rucker got old and are out of the league. Kerney left for Seattle and Abraham more than replaced him for a few years. But Abraham suddenly got old last season, Atlanta's pass rush never existed and their defensive backs paid the price. The lack of a pass rush was a big reason why the Falcons didn't make the playoffs.
To a lesser degree, the same thing can be said for the Buccaneers. The Saints were the only team in the division in the top half of the league in sacks. They won the Super Bowl, but there's still plenty of room for improvement.
As the NFC South gets ready for free agency and the draft, all four teams are looking to get better at rushing the quarterback. Here's a look at how each team's pass rush shapes up.

Saints. Charles Grant, the other starter, took Smith's place as the underachiever last season. Grant had 5.5 sacks. He'll turn 32 before next season starts, he's making a lot of money and there have been rumblings the Saints could part ways with their first-round pick from 2002, the year the NFC South was born. The Saints may be able to get by with some sort of combination of Anthony Hargrove and Bobby McCray. That's basically what they did in the postseason when Grant was out with an injury.
But the Saints may need to play Hargrove at defensive tackle, where he might have more value as a run-stopper. McCray has good pass-rush skills, but he produced only 1.5 sacks last year and he's not known for his ability to play the run.
There's no guarantee Smith will match last season's success and the Saints have to look elsewhere for help in the pass rush. They can start by looking for a defensive end in free agency or the draft.

Panthers. For a long time, Peppers and Rucker were as good a pair of bookends as you would find in the league. Now, the Panthers are looking at the possibility of Everette Brown and Tyler Brayton. Or maybe Charles Johnson. That's not going to scare anyone.
Brown was a second-round pick last year and the Panthers took him knowing he might be the eventual replacement for Peppers. That time is upon them. Brown has lots of potential, but he still is an unknown. Brayton can become an unrestricted free agent, but the Panthers may try to re-sign him and prevent that.
Either way, they've got to take some of that $20 million they saved by not placing the franchise tag on Peppers and find another pass-rusher. Carolina owner Jerry Richardson proved his point with Peppers, but he's going to have to spend some of that money to get someone who can chase a quarterback.

Falcons. After producing a career-best 16.5 sacks in 2008, Abraham fell to 5.5 last season. What happened? Simple, he turned 30. Don't look for a dramatic bounce back because Abraham will turn 32 in May. The Falcons may keep him around, but they know that Abraham's no longer the solution.
The people who do the thinking in the Falcons' building believe the lack of a pass rush was the main reason their secondary struggled last season. They've given up on Jamaal Anderson, at least as a defensive end, and they've seen enough to know Kroy Biermann isn't ever going to be much more than a situational pass-rusher.
The Falcons have to do something dramatic for their pass rush. That could be something like going after Peppers, even if it would go against the team's philosophy of building through the draft. If they do that, they're going to have to find a pass-rusher at No. 19 or 20 in the draft and nothing is guaranteed that late.

Buccaneers. Say what you want about the Bucs, but White and Jimmy Wilkerson at least provided some balance in the pass rush. Wilkerson had six sacks and played the run pretty well. But Wilkerson is about to become a free agent and the Bucs may look elsewhere.
They're not known for spending big money on free agents in recent years. But they've got an unhappy fan base and may consider doing something like pursuing Peppers. If not, they may have to look for a defensive end somewhere in a draft in which they'll be trying to fill a lot of other needs.
At least in one category, there's not much difference from top to bottom among the four NFC South teams. They all need help in the pass rush and they all need it immediately.