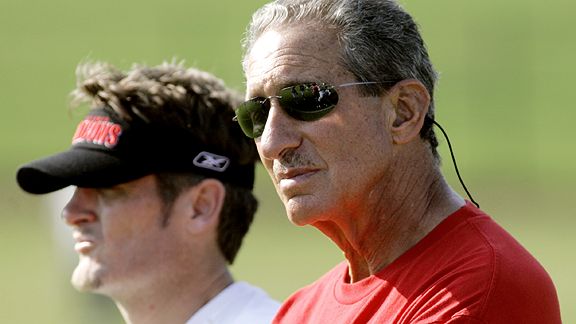 AP Photo/John Amis
Falcons owner Arthur Blank (front) and general manager Thomas Dimitroff are looking for more then their third consecutive winning season in 2010.The absolute best thing you can say about the Atlanta Falcons these days is their vision is very clear.
They have a positive and realistic grasp of where they are and a positive and realistic outlook on where they want to go from here. Listen to owner Arthur Blank, coach Mike Smith and general manager Thomas Dimitroff for just a few minutes and it becomes instantly obvious they're on the same page. For perhaps the first time in franchise history, you don't need to put on a pair of heavy-duty, rose-colored glasses to see that something good could be on the long-term horizon for the Falcons.
Instead of just randomly going through life and hoping for good things, the Falcons are methodically preparing for great things.
"Being average in this league is not acceptable,'' Blank said Tuesday during a break at the NFL owners meeting. "It's not acceptable to me as an owner. It's not acceptable to our organization. And it certainly is not acceptable to our fan base.''
Wow, mediocrity is not acceptable to a team that's basically defined the word for over four decades?
"I view our team as an ascending team,'' Blank said. "I think the most important thing about the back-to-back winning seasons and breaking that 44-year hex or jinx is that, symbolically, it represents where this team is. That's the most significant part of it. I'm excited about that.''
Blank should be excited about where the Falcons are and where he wants them to go. They're shooting for the stars -- years of winning and winning big while doing it on a platform they hope gets bigger. Do that and the Falcons can become something they have never truly been -- a huge part of Atlanta's overall fabric.
They've made a splash every few years and had occasional flash with Deion Sanders and Michael Vick. But listen to Blank, Dimitroff and Smith and it's obvious they're shooting to make the Falcons more than they've ever been. They want this team to be good year in and year out.
You know what? They just might be well on the way. After a stunning 11-5 season and playoff berth in Smith and Dimitroff's first year, the Falcons went 9-7 last year -- their first back-to-back winning seasons in franchise history.
"That's a nice accomplishment and it's significant because of the history of the franchise,'' Dimitroff said. "But our goal every year is to be in the playoffs. That didn't happen this past season.''
It's pretty clear the Falcons celebrated their back-to-back winning seasons for all of about three seconds. Maybe the Falcons jumped ahead of "the process'' Smith likes to talk about in 2008 and maybe last season was a bit of a reality check. Maybe, in the third year of Smith/Dimitroff, the process is exactly where it should be.
Blank might be right on target when he talks about the Falcons as an "ascending'' team.
"If you look at the talent on the team, other than a couple of positions, it's all young,'' Blank said. "Thomas and Smitty have done just a fabulous job the last couple of years in the draft.''
It all starts with quarterback Matt Ryan, Atlanta's first-round pick in 2008. The common perception among fans is Ryan had a great rookie year and took a little step back last season. That's not what the people in the Falcons' building think at all.
"I think Matt improved from Year 1 to Year 2 and I think there will be significant improvement from Year 2 to Year 3,'' Smith said. "I think he has improved on and will continue to improve on the two traits that all the great quarterbacks have. No. 1 is their decision making and No. 2 is their accuracy with the football. I think that Matt has really improved in his decision making in terms of what he can see and where to go with the football. His accuracy has improved as well. Matt is a guy that we've given more to. We've opened up the playbook more from Year 1 to Year 2, especially in our no-huddle offense. I think we'll be able to continue to expand what we want to do offensively.''
It should be noted that Ryan dealt with a toe injury that cost him two games and he limped through some others. An ankle injury also severely limited running back Michael Turner for about half the season. Ryan, Turner and receiver Harry Douglas (knee injury) all are expected back at full health next season and the parts all seem to be in place on offense.
"We love our young quarterback,'' Blank said. "It doesn't mean he's perfect, but he's getting better. Twenty-two touchdown passes last year versus 16 the year before. He's learning more about the NFL and more about who he's working with on his team. He's one of these young men that's first to work and last to leave. Great leadership on and off the field and he's earned the respect of the players. I think he'll continue to ascend to that role as a stronger leader in the years to come.''
Blank likes to say he doesn't cross the line into the football side, instead focusing on what he can do to help the football people succeed. But he is scheduled to have dinner with Ryan in a couple of weeks. One of the subjects on the agenda is leadership. The Falcons believe Ryan has done a great job in that area in his first two seasons and Blank wants to remind him that expectations grow every year.
"We'll talk about his role and his responsibility,'' Blank said.
Expectations are greater everywhere with the Falcons right now. After signing cornerback Dunta Robinson, the Falcons feel much better about their defense. They'd still like to improve the pass rush and it's likely an attempt to do that will come in the draft.
Throw in a pass-rusher, project all the injured guys back as healthy and there's really no reason to think Atlanta can't string together three consecutive winning seasons. But Blank, Dimitroff and Smith are thinking about more than just that. They're looking ahead and imagining a long string of winning seasons… and a new stadium.
As much as Ryan, a new stadium is part of the overall plan for this franchise right now. Blank has taken a proactive approach and the Falcons have been making noise about their desire to get a new facility to replace the Georgia Dome. They're working with the Georgia World Congress Center and hoping they can get a new facility on the same ground, or surrounding ground. There's encouragement on that front because there is a bill in front of the state assembly to extend a tax on hotels and motels that would largely finance a new building. Staying close to where they're at is the priority, but the Falcons also are looking around the Atlanta area for other potential sites. So far, Blank and the Falcons have been relatively patient about this, but they're not sitting still. Team president Rich McKay spends most of his time working toward a new stadium.
"There is some haste about this,'' Blank said. "When you look at the planning, the designing, the construction and all the elements that go into a new stadium, there is a timetable of seven or eight years. The clock is ticking. We need to move forward on this. There are 25 stadiums in the league that have been built or significantly rebuilt and upgraded since 1992 when the Georgia Dome was opened up. We want to make sure that our fans have the very best NFL experience that we can offer them and make sure that we're competitive on that front.
"You're competing with somebody sitting at home watching a 52- or 56-inch screen television, kicking back and drinking a cold beer and saying, 'let's just stay home.' The burden is that we've got to create an even better in-game experience for them.''
No doubt a flashy new stadium would help. But there's also no doubt that continued winning will help build a new stadium and make the in-game experience the best it's ever been in Atlanta.