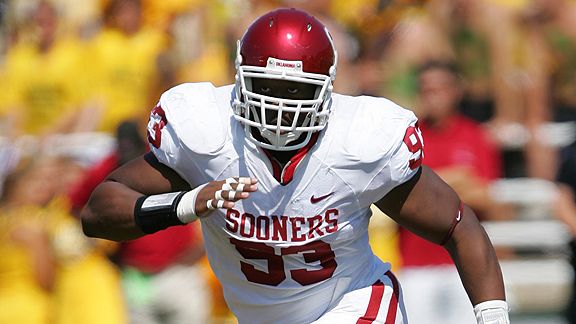 Paul Jasienski/Getty Images
The drafting of Oklahoma's Gerald McCoy has Tampa Bay fans thinking that a change might be coming for the Bucs.
TAMPA, Fla. – You still might need to squint a little bit.
But, come on, admit it. Yeah, it's taken an agonizingly long time, but you can start to see something rising out of the rubble. No skyscraper yet, but the Tampa Bay Buccaneers now have a clear foundation.
The latest part came Thursday night when the Bucs used the third overall pick to take Oklahoma defensive tackle Gerald McCoy. Remember last year when the Bucs drafted Josh Freeman and instantly declared him a franchise quarterback?
They did the same thing moments after they drafted McCoy. They dubbed him a franchise defensive tackle.
"You are talking about the cornerstone of what you're going to do on defense,'' coach Raheem Morris said.
Yep, if McCoy's half as good as they say, he'll be far better than anything the Bucs had last year when the middle of their defensive line spent more time in the secondary than safety Sabby Piscitelli. Chris Hovan and Ryan Sims got blown off the ball so much that linebacker Barrett Ruud, who thinks he should be paid like a franchise linebacker, wasn't free to roam and make the kind of plays a franchise linebacker is supposed to make.
If McCoy's anywhere near as good as they say, the rebuilding process just got pushed up a gear or two.
"He makes the whole defense better,'' Morris said.
He can't make it worse. After pushing Derrick Brooks out the door and scrapping the Monte Kiffin defense that pretty much dominated for more than a decade, the Bucs were a disaster on defense early last year. Morris put his defense in the hands of veteran coordinator Jim Bates. It took all of about half a season for Morris to realize he'd made a huge mistake. Say Bates' scheme didn't fit the Bucs' personnel or say the Bucs just didn't have any personnel.
Either way, it was ugly. Morris ousted Bates in midstream (or full flood), went back to the Tampa Two scheme and the Bucs actually looked a little better the second half of the season. Not just the defense. The offense looked a lot better once Freeman got on the field.
Freeman brought a few rays of hope. McCoy, who shed some tears upon his selection, brings some sunshine. It's still a work in progress, but maybe this is where Tampa Bay's fans start to see the future, instead of sulking about a past and clinging to the ghosts of Brooks, John Lynch and Warren Sapp.
Let's get the obligatory Sapp comparisons out of the way right now. Yes, Sapp came into Tampa Bay back in the mid-90s and helped turn around a dismal franchise. And, yes, Sapp recently came out and strongly stated the Bucs should take McCoy.
But Sapp and McCoy are two different types of defensive tackles.
"There are no Sapps,'' Morris said. "He's going to come here and show Gerald McCoy qualities.''
In other words, McCoy, at 6-foot-4, is bigger than Sapp ever was.
"The natural three-technique fit,'' general manager Mark Dominik when asked to explain why he said McCoy fits the Bucs better than Ndamukong Suh, who went No. 2 overall to Detroit.
But it's not just the three-technique ability that McCoy will bring to the Bucs. They need a lot more than that. Right after Brooks and a whole bunch of veterans were released, a lot of other players stepped up and made noise about how they would become leaders.
When it came time to actually be leaders, nobody stepped up. The Bucs were a team without a leader last year. Call veteran cornerback Ronde Barber many things, but don't call him a leader. It's not part of his personality. Same for Ruud, who isn't a rah-rah guy. The Bucs didn't even look to tight end Kellen Winslow for leadership. They were just happy he kept his mouth shut and was one of the few bright spots of last season. Nobody else really had the resume or the personality to take charge of the locker room.
You could see bits and pieces of Freeman gaining respect in the huddle late last season. And you're going to see McCoy being asked to be a leader from Day One. That's another big part of the reason the Bucs drafted McCoy.
Dominik updated the forms the Bucs use for scouting reports this year. He added a box to the form for scouts to check if a player served as a team captain in college. There was only one box, but McCoy's came back with two check marks.
He was a captain at Oklahoma as a sophomore and a junior. Dominik said Oklahoma coach Bob Stoops told him McCoy is the best leader he's ever seen.
"The makeup of the man, that's an important part of what we're doing with this football team,'' Dominik said.
A lot of people around Tampa Bay tend to forget that the strong-character concept Tony Dungy kind of got lost when Jon Gruden and Bruce Allen were running the show. Dominik and Morris might not be as strict as Dungy in that department, but they put more emphasis on character than Allen and Gruden.
They were sold on McCoy as a player and a person. They'll tell you about McCoy's relationship with his family and his upbringing.
"This is exactly who we wanted,'' Morris said.
As a player and a person. And the Bucs will tell you one last thing about McCoy and they'll reach deep into franchise history to do it.
They'll tell you the last defensive linemen they took early from Oklahoma worked out pretty well. That was Lee Roy Selmon in 1976. He played his way into the Pro Football Hall of Fame and into the heart of the Tampa Bay community.
They'll tell you McCoy knows all that history about Selmon. McCoy backed that up in a conference call with the media late Thursday night. He backed up all that talk about Selmon and he backed up all that talk about being a leader.
"They didn't bring me in to not play. I know that much,'' McCoy said.
Now, with their defensive cornerstone in place, it's time for the Bucs to stop backing up. It's time for this rebuilding project to step forward.