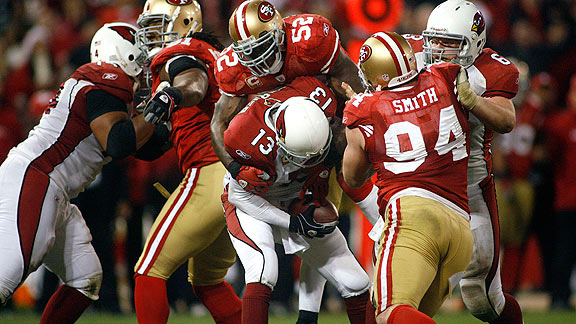 Cary Edmondson/US Presswire
San Francisco's defensive line made it a hard night for Kurt Warner and the Cardinals.
SAN FRANCISCO -- The San Francisco 49ers might have felt worse than the Arizona Cardinals after completing a season sweep of their NFC West rival.
Their 24-9 victory at Candlestick Park made their already excruciating defeat at Seattle a week earlier even more meaningful.
Had the 49ers won both games, they would be only a game back with three games to play. They would be relevant. The Cardinals, now 8-5 and two games ahead of the 49ers, would have to worry about them.
Instead, Arizona shrugged off its seven-turnover performance as a tough Monday night at the office. The Cardinals can win the division by beating Detroit and St. Louis over the next two weeks. They know they've got eight victories already and the 49ers, with a road trip to Philadelphia looming, can claim no more than nine.
"It's disappointing that in this venue on Monday night, we didn't play well," Cardinals coach Ken Whisenhunt said. "The division was never really that big a deal for us. If we take care of our business from here out, we will win the division. That is what is important."
The game could have been devastating for the Cardinals if Larry Fitzgerald's knee injury had been serious. Whisenhunt feared the worst when Fitzgerald left for the locker room. But the Pro Bowl wideout apparently suffered no serious damage. He returned to the game and was on the field in the final minutes, an unnecessary risk that worked out for Whisenhunt.
The 49ers see themselves as tougher and more physical than their Arizona rivals. Recent evidence provides ample validation.
"That is one of the teams I do respect," Cardinals defensive end Darnell Dockett said. "They play hard, they play physical and they stick to what they do."
San Francisco's defensive front seven -- Justin Smith, Parys Haralson and the emerging Ahmad Brooks in particular -- seems to have its way against the Cardinals' offensive line. Arizona's penchant for spreading the field and leaving offensive tackles without help in protection has played into the 49ers' sledgehammer mentality.
The 49ers know how to play the Cardinals better than other teams with similar or even greater talent play Arizona.
"It feels amazing," 49ers guard David Baas said. "Our backs were against the wall and we wanted to come out and show everybody what the 49ers were about, regardless of record and that stuff. We beat Arizona twice and I truly think that we are the best team in the NFC West."
The 49ers are certainly the best team in the NFC West against Arizona. But they also found themselves leading by a single score in the fourth quarter even after forcing five turnovers. They scored 17 of their points on drives that began at the Arizona 28-yard line or closer.
CARDINALS INTERIOR DEFENSE
A week after shutting down Adrian Peterson, the Cardinals received a heavy dose of Frank Gore up the middle. Gore got more carries up the middle than Peterson, but he also made the most out of them, getting all but 49 of his 167 rushing yards from there.
San Francisco, pass-happy in recent weeks, finally revisited its base offense with Frank Gore and sometimes fullback Moran Norris. Gore carried 25 times for 167 yards and a touchdown behind an offensive line that has quietly shown improvement in recent weeks. It was enough to mask quarterback Alex Smith's inconsistent play -- two touchdowns, two interceptions, a meager 4.1 yards per attempt -- thanks largely to the seven turnovers San Francisco forced.
"I'm very excited about our team," 49ers coach Mike Singletary said.
Brooks' three-sack performance stood out. He and free safety Dashon Goldson each forced two fumbles. It's tough to fully evaluate an offensive line's performance, but center Eric Heitmann seemed to control the middle well for the 49ers, clearing lanes for Gore.
This was a step forward for the 49ers, and a temporary step back for Arizona.
"We got a piece of humble pie today," Dockett said. "I can't say we didn't fight, but they outplayed us. Sometimes you need those types of games to get you right where you need to be."
There's no question the 49ers' physical style forced quite a few of the turnovers. There's also no question the Cardinals will protect the football better than this most of the time. They tend to respond well following disappointing performances.
They ran the ball surprisingly well when they weren't putting it on the ground. Beanie Wells carried 15 times for 79 yards and a touchdown after 49ers linebacker Patrick Willis declared the Cardinals' ground game dead on arrival.
Wells' physical, hard-nosed running will probably carry over into future games more than the turnovers, which tend to come and go. Wells looks like a potential star and his running will open up big plays in the passing game when Arizona needs them in the playoffs.
"We've got to find a way to answer what [the 49ers] do to us because they have had some success against us recently," Cardinals quarterback Kurt Warner said. "You tip your hat to them tonight. But like I said, we've got things ahead of us that we've got to go and accomplish now. We have to put this one behind us.