Chuck Knox's career as the Seattle Seahawks coach was at a crossroads heading into the 1991 draft.
The team had gone 9-7 a year earlier, but quarterback was becoming a concern. Dave Krieg finished the 1990 season with 15 touchdowns and 20 interceptions, giving him 40 picks over a two-season span. Krieg was 32.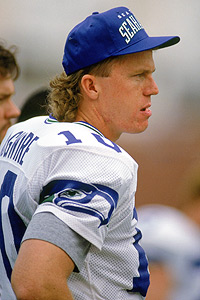 Bernstein Associates/Getty Images
In 1991, the Seattle Seahawks chose Dan McGwire over Brett Favre.
Seattle wanted to draft a quarterback, but which one?
Ownership wanted Dan McGwire in the first round. Knox wondered if Brett Favre might be available later. Ownership prevailed. Knox was livid -- so livid, in fact, that he refused to meet with reporters after McGwire's selection was announced.
When McGwire took center stage for his introductory news conference at team headquarters, photos showed Knox standing off to the side, arms crossed, scowl across his face. He was out as head coach after McGwire's rookie season.
McGwire's career with Seattle spanned four seasons, 13 games and five starts. He completed 74 of 148 career passes for 745 yards, with two touchdowns, six interceptions and a 52.3 rating.
Eighteen years after Seattle ownership went with McGwire, Favre is coming off a Pro Bowl season. McGwire hasn't completed a pass since 1994. Seattle still has never drafted a productive starting quarterback.