"Inside Slant" is the title for the weekly podcast Kevin Seifert and I launched Tuesday, but there is no predetermined route to run.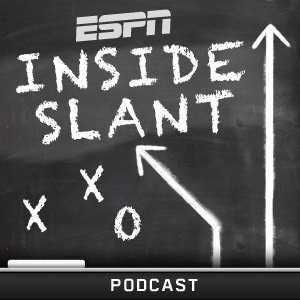 Some weeks, we might just say, "Everyone go out."
Randy Moss was among the subjects during this initial run. Kevin covered Moss for years as a beat reporter following the Minnesota Vikings. I spent the past three days watching Moss and his San Francisco 49ers teammates practicing at team headquarters.
One of the reasons Kevin cited in explaining why Moss wasn't always happy in the past might actually be a key to Moss succeeding with the 49ers. That wasn't something I was thinking heading into the podcast. Our unscripted discussion led me there. Here's hoping you get something out of this, too.
Fire away with comments, suggestions, criticisms, etc. Not that you probably needed any encouragement.
Here's the podcast link

.