We're going to have a non-quarterback item on the NFC West blog at some point, I promise.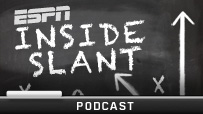 It's just tough to say when.
The biggest game in the division for Week 16 features San Francisco's Colin Kaepernick and Seattle's Russell Wilson, each the NFC's offensive player of the week within his past three games. Even the St. Louis Rams' game at Tampa Bay carries interest for the presence of two younger quarterbacks navigating ups and downs under new head coaches.
In Arizona, where the Cardinals face the Chicago Bears in Week 16, quarterback play stands as the No. 1 area where the organization requires an immediate upgrade. There is no getting around the subject.
Kevin Seifert and I spent part of Wednesday assessing quarterback options and contingencies awaiting Arizona and other teams in the coming offseason. We noted that nine of the 21 highest-paid quarterbacks face futures uncertain beyond this season. We considered which teams could have needs at the position. We discussed whether San Francisco, Seattle, Cincinnati and even Washington might be disproving well-established perceptions about quarterbacks taken at certain spots in the draft.
It's all part of the latest "Inside Slant" podcast

. Hope you enjoy.