At a time when out-of-work coaches have been stiff-arming the Buffalo Bills, and the one coach who has accommodated isn't believed to be truly enamored, it's significant when we learn of a notable coach who's actually interested.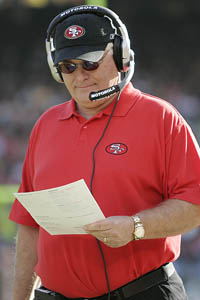 AP Photo/Paul Sakuma
Former NFL coach Mike Martz is interested in the open Bills head coaching job.A league source informs me former St. Louis Rams head coach and longtime offensive coordinator Mike Martz would be thrilled to become the Bills' next coach.
Martz won a Super Bowl ring as the Rams' offensive coordinator in 1999. He was head coach when they went 14-2 and won the NFC championship in 2001.
There's a widespread belief Buffalo's quarterback situation will deter most candidates, but the source said Martz isn't turned off by Trent Edwards or Ryan Fitzpatrick.
Martz, an offensive guru known for helping salvage Kurt Warner's career, drafted Fitzpatrick out of Harvard in 2005 as head coach of the Rams. The source also said Martz was a fan of Edwards when he left Stanford in 2007.
Another dynamic that could be appealing to the Bills is the fact Martz has worked with interim coach Perry Fewell before. If the Bills want to keep Fewell around, bringing in somebody he's familiar with and has worked under could make a difference. Fewell was the Rams' secondary coach for two seasons under Martz.
Martz fired Bills special teams coordinator Bobby April after three seasons in St. Louis. But there has been some speculation around the Bills that April won't be back next year anyway because they passed him over for the interim head coach job despite holding the title of assistant head coach.
Martz gave Bills linebackers coach Matt Sheldon his first NFL job with the Rams in 2001. Sheldon worked with Martz for five seasons.
Bills rookie safety Jairus Byrd, the NFL's interceptions leader, also knows Martz. Byrd's father, Gill Byrd, was a defensive assistant for three years in St. Louis.