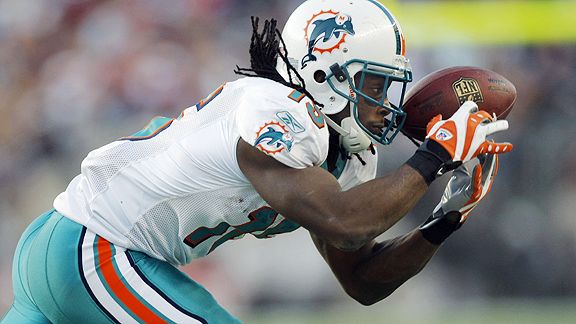 David Butler II/US Presswire
Miami receiver Davone Bess has exceeded expectations and leads the Dolphins in receptions this season.If you're a Miami Dolphins fan who has been privy to Davone Bess for the past two seasons, play along for the next few minutes.
Chances are the rest of the country doesn't know much about him.
There are several reasons casual observers probably haven't heard about Bess. He played college ball 2,400 miles from the mainland. His gaudy receiving stats were dismissed as the product of a gimmicky system. Nobody drafted him. He made it to the NFL with a run-oriented team. He doesn't make the sort of plays that get spliced into highlight reels.
Still, Bess has emerged as one of the NFL's most trustworthy targets, a high-percentage receiver the Dolphins seek when it matters most.
"Unless you're really watching football, you probably wouldn't know about Davone," said Colt Brennan, his quarterback at Hawaii.
"When I think about Davone, I think he's the next big receiver you're going to hear about. You haven't heard about him yet, but he's working his way up to somebody who's going to be a big name in your mind for years to come."
Bess had a breakout performance Sunday, helping the Dolphins pull off a ginormous 22-21 comeback victory over the New England Patriots in Land Shark Stadium.
On an afternoon the Dolphins turned quarterback Chad Henne loose, Bess caught 10 passes for 117 yards -- both personal bests -- and his first touchdown of the year.
All the more impressive was the Patriots at times were double-covering Bess, a tactic Dolphins coach Tony Sparano noticed toward the end of their first game against the Patriots in Week 9.
"I think that there was clear emphasis on the Patriots' part to try to take Davone away," Sparano said.
That's right. Bess has gone from undrafted to a double-cover danger.
"In my eyes, the sky's always the limit," Bess said Monday. "It was devastating not getting drafted, but a year later now I'm actually not surprised how much success has come my way because I've worked hard my whole career to make it to this point.
"This is only the beginning of it. I still have a long way to go. I still have to learn and get better and better each week."
Bess leads the Dolphins with 59 receptions for 548 yards. He has almost twice as many catches as the next-busiest teammate, Greg Camarillo, and more than twice as many as Ted Ginn, the ninth overall pick in the 2007 draft.
Bess does most of his damage underneath. While dizzying haymakers might garner the most attention, Bess delivers a succession of body blows that often get overlooked but can be just as effective.
"He can separate from any defender, and it's tough to cover him," Henne said. "Last time we played the Patriots, [Bill] Belichick was on the sideline, yelling 'Why aren't we pressing Davone?' He's a tough guy to press because he can beat you lateral, and he can beat you vertical, too."
Bess and Patriots slot receiver extraordinaire Wes Welker went into Sunday with the NFL's shortest pass lengths. The ball traveled an average of only 5.2 yards to reach Welker and 5.5 yards to reach Bess. Those long handoffs emphasize their abilities to get yards after the catch.
"Bess has great short-area quickness, much like Welker, but not a home-run guy or a bomb threat," Scouts Inc. analyst Matt Williamson said. "Bess has impressive body control and very solid hands. He catches the ball away from his body and is quick to turn upfield after securing the football.
"He kills linebacker coverage that he sometimes gets in the slot, but he also is put together pretty well and can outmuscle a lot of smaller nickel cornerbacks off the line of scrimmage. In the slot, he is a real handful when given a two-way go and has a very good feel for coverages and how to present himself open to his quarterback."
No wonder, then, that Bess is such an attractive option when it matters most.
He ranks second in the NFL in third-down receptions. Bess has 29 catches on third down (two behind New York Giants receiver Steve Smith), with 23 of them moving the chains (one behind Smith for the league lead).
"He's never gotten the credit he's deserved, but he's gone out there and done it," said Brennan, a backup quarterback with the Washington Redskins. "He's a true football player and should be an inspiration to a lot of people out there."
Bess and Brennan were kindred spirits from the moment they met at Hawaii. Both vividly recall their first meeting in the summer of 2005, when they had a heart-to-heart talk on Bess' front porch.
"There was a connection of me and him going through a lot and wanting to prove a lot, to defy the odds," Brennan said. "We said 'Why not shoot for the stars? Why not shoot for something great?'"
Brennan arrived in Hawaii with considerable baggage. He left Colorado under a black cloud. He had been convicted of first-degree criminal trespass and second-degree burglary for entering a female student's room uninvited. He served seven days in jail, was put on four years' probation and kicked off the team.
Bess was a reclamation project, too. He had signed with Oregon State, but two weeks before leaving his hometown of Oakland for Corvallis, he was sentenced to 15 months in a juvenile facility as an accessory for receiving stolen goods.
"Our situations were totally two different scenarios, but we both had the finger pointed to us without the proper evidence," Bess told ESPN.com while still at Hawaii in November 2006. "We both were pretty much taking life for granted. We couldn't be stopped. Everything was going so good for us. And then all of a sudden, bam! That's a reality check.
"Now you have no choice but to mature and man up, take it and learn from it, grow from it and tell others your situation."
Brennan and Bess lit up the sky in Honolulu. Brennan became a Heisman Trophy candidate in June Jones' prolific run-and-shoot system that threw first and asked questions later. Brennan broke 18 NCAA, 17 Western Athletic Conference and 41 school records.
Bess was instrumental. In his three years at Hawaii, he amassed 293 receptions for 3,610 yards and 41 touchdowns.
"I've heard stories of receivers grabbing quarterbacks and saying 'Hey, I'm going to be open this play,'" Brennan said. "When I look back, I never remember Davone in three years telling me to throw him the ball this time. He just ran his route and did his job."
Hawaii's offense, rejected by most NFL scouts as a collegiate contrivance, propelled it to a No. 10 ranking, the last undefeated record in Division I-A and a berth in the Sugar Bowl. When Georgia trounced Hawaii, all of the skepticism around Brennan and Hawaii's offense seemed founded after all.
"We all got grouped together," Brennan said, "and ever since we lost that Georgia game we all got, in some weird way, flagged. 'Maybe they're not as good as they are on paper.' Because of that it totally killed us as far as getting an opportunity.
"Lucky for Davone, he had been through so much already, going through the bottom up was easy."
Bess, listed at 5-foot-10 and 190 pounds, was deemed too short and too slow to warrant a draft pick. A few NFL teams, knowing he was worth a look, jockeyed for his services after he was passed over. The Dolphins, coming off a 1-15 season, sold him on the chance to play right away.
As a rookie, Bess caught 54 passes -- two behind Ginn for the team lead -- for 554 yards and a touchdown.
A year later, he already has more receptions and almost as many yards with four games to play.
Bess isn't a highlight-reel staple or a must-start in your fantasy football league, but attentive football fans recognize him as one of the most important players on a team that's in the playoff hunt.