There's a chance Wes Welker's unhinged left knee will be ready for the start of the 2010 season.
Just don't count it.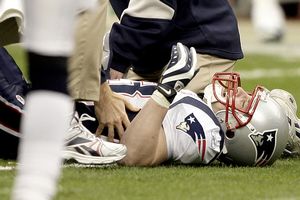 Otto Greule Jr./Getty Images
Patriots wide receiver Wes Welker's injury will probably keep him off the field through the summer."If people are expecting him to get back on the field and be Wes Welker, you've got to cut him some slack," ESPN injury expert Stephania Bell said. "It's going to take him a while."
While it would take possession of Welker's medical chart to give a convincing forecast for his return, Bell believes we have enough information to hazard a guess.
She estimated the New England Patriots slot receiver could be practicing by September and looking Welkerish by October.
Bell based her prognosis on the report Welker tore his anterior cruciate and medial collateral ligaments and is assuming no other significant tissue damage because of the non-contact nature of the injury.
In particular, she is going on the supposition Welker didn't suffer the so-called "terrible triad," which includes a meniscus tear in addition to the ACL and MCL. That would prolong the process considerably.
Bell, a physical therapist who specializes in athletes and performance artists, noted most MCL injuries can heal on their own with a leg brace for four to six weeks. After the knee regains its range of motion, then the ACL can be surgically repaired, in Welker's case by about the end of February.
How Welker plays the game will make his recovery more difficult. The last stages of recovery involve lateral movement, deceleration and the ability to cut.
"It's conceivable he could be practicing in August, but it's still a stretch," Bell said. "But because of the type of player Welker is, his strength has been the quick burst of speed and ability to change of direction.
"Unfortunately, those are the toughest things to get back after this kind of injury. Those movements are the most stressful on an ACL/MCL injury."