With Mike Zimmer signing a three-year contract extension with the Bengals, the Redskins turned to former Saints head coach Jim Haslett to be their new defensive coordinator, according to an ESPN report. New head coach Mike Shanahan is putting together a dramatically different coaching staff than his predecessor Jim Zorn.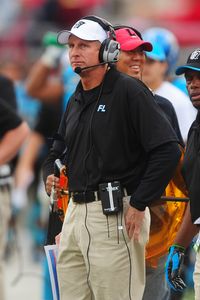 Mark J. Rebilas-US PRESSWIRE
New Redskins defensive coordinator Jim Haslett could transition the team to a 3-4 defense.Haslett, a former NFL linebacker, has an outstanding reputation as a defensive coordinator in the league and you can guarantee that he'll field a more aggressive unit than Greg Blache featured the past two seasons. Redskins fans clung to stats that showed they were a top-10 defense on Blache's watch, but this unit didn't cause enough turnovers and never really took over games.
It's believed that Shanahan wants Haslett to run a 3-4 scheme, which would place more of a premium on the pass-rush in 2010. With the arrival of defensive tackle Albert Haynesworth in '09, the Redskins increased their sack totals and there's reason to believe that outside linebacker Brian Orakpo could flourish in a 3-4 defense. I think Haynesworth's talented enough to play either nose tackle or defensive end in a 3-4, but I'm not sure Andre Carter will make a smooth transition to being an outside linebacker.
As I've already stated, it will be tough for a smaller player such as London Fletcher to function in a 3-4 scheme because he'll have to fight off 330-pound guards on a regular basis. If the Skins are truly going to make this transition, you'll see them draft some completely different types of players than in the past. Zimmer transitioned into a 3-4 defense for Bill Parcells in Dallas, but he was more comfortable using a 4-3 scheme. I think Haslett's a little more open-minded when it comes to the two schemes, so you could see some type of hybrid used until the Skins have the right personnel to make a complete transition.
I think players such as LaRon Landry and Rocky McIntosh should be thrilled with the arrival of Haslett. He'll do a better job of putting them in positions to succeed. Landry too often goes for the big hit and he's been awful against the deep ball. I think Haslett will play Landry closer to the line of scrimmage and allow him to function more like a linebacker at times.
Haslett's agent, Peter Schaffer, spoke to the Washington Post on Tuesday evening: "It's a situation where I think that Jim and Mike Shanahan have developed both a great respect over many years, as well as a friendship," said Schaffer. "I think they have a lot of similar philosophies, and there's definitely been a lot of communication."
I'm not sure where the Redskins' defense will rank next season, but I'm pretty sure they'll play at a higher level.