ORCHARD PARK, N.Y. -- Contrary to the diplomatic comments he made on his radio show, Marty Schottenheimer actually did want the Buffalo Bills head-coaching job.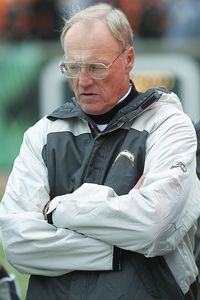 AP Photo/Tom Uhlman
After three years out of the game, Marty Schottenheimer was hoping to be considered as head coach of the Buffalo Bills.Badly.
Bills owner Ralph Wilson, however, wasn't interested, sources close to Schottenheimer informed me Tuesday after the club introduced Chan Gailey as their man.
Schottenheimer had a strong desire to return to coaching after three years away from the sidelines and had an ally in former Bills general manager Buddy Nix. They became close while working together with the San Diego Chargers.
Schottenheimer played linebacker four seasons with the Bills, winning an AFL title with them in 1965.
But the Bills couldn't consider Schottenheimer a candidate because Wilson wasn't comfortable with him, the sources said.
Schottenheimer has a 200-126-1 record as head coach for the Cleveland Browns, Kansas City Chiefs, Washington Redskins and Chargers. He took his teams to the playoffs 12 times, but owns a 5-13 record there.
The Bills did extend an interview request to Schottenheimer's son, New York Jets offensive coordinator Brian Schottenheimer. The Jets granted permission last week, but Brian Schottenheimer declined the invitation.