Now that the Buffalo Bills have named Chan Gailey their head coach, folks who have been silent about the search process are going to start filling in some blanks.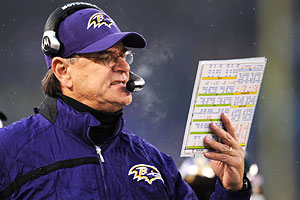 AP Photo/Gail Burton
Former Ravens coach Brian Billick was interested in interviewing for the Bills head coach opening.One prominent agent who represents coaches told me the Bills front office, and owner Ralph Wilson in particular, simply didn't have an appetite for some hopefuls. We're learning who a few those wallflowers are.
Sources close to Marty Schottenheimer told me Tuesday he wanted to the job.
Now Brian Billick is speaking up.
Billick also wanted to be the Bills' head coach but couldn't procure an interview, much less an offer.
"I just wanted to make sure I was clear that [Bills general manager Buddy Nix] had not called," Billick told reporter Aaron Saykin of Buffalo NBC affiliate WGRZ. "Why he had not called a coach with a Super Bowl ring, 10 wins a year for nine years, having orchestrated the highest-scoring offense and defense in the history of the league, is a question worth asking. But I never spoke with Mr. Nix."
Good question, indeed.
Gailey isn't an awful choice. He has fine credentials.
But why the Bills wouldn't at least interview Schottenheimer or Billick is beyond me.