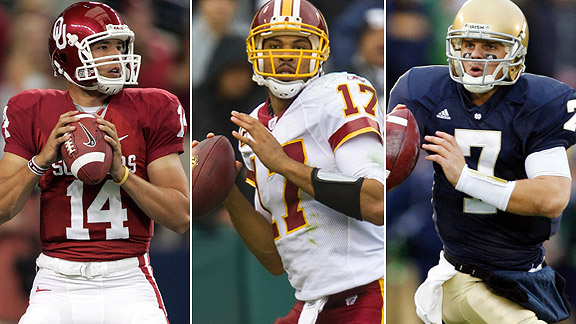 US PRESSWIRE
Will Jason Campbell (middle) be the Redskins starting quarterback in 2010? Or might the Redskins look to draft Oklahoma's Sam Bradford (left) or Notre Dame's Jimmy Clausen?Try as he might, there's no way Redskins quarterback Jason Campbell can tune out the talk radio or even the random folks who recognize him at the movies. He's once again involved in a familiar storyline in which his team's fanbase (and perhaps the front office) yearn for the next franchise quarterback.
Never mind the fact that Campbell somehow put up respectable numbers during a season in which he lined up behind arguably the worst offensive line in the league. Campbell was set up to fail by an administration that neglected the offensive line for the better part of a decade.
No quarterback in the league took more of a beating than Campbell, but even when given the opportunity to tap out, he kept showing up in the huddle. And given the way owner Dan Snyder and his former henchman Vinny Cerrato treated him, I'm sure Campbell thought taking a play or two off might lead to a full-time demotion. For the record, Campbell actually enjoyed his time with interim play-caller Sherman Lewis, who was plucked from a bingo-calling assignment by Cerrato.
The Redskins played themselves into the No. 4 overall pick in this April's draft, so all the speculation is that new head coach Mike Shanahan will select either Oklahoma quarterback Sam Bradford or Notre Dame quarterback Jimmy Clausen. But until further notice, Campbell remains the starting quarterback of this team. He'll be an unrestricted free agent, which means he'll likely receive the highest contract tender of roughly $3.1 million. And if the Redskins are shopping Campbell, they're doing a pretty nice job of keeping it a secret this offseason.
I caught up with Campbell via phone Thursday and asked him about his initial impressions of Shanahan. The two sat down in Shanahan's office and talked about the organization's future. But what about Campbell's future?
"The plan is that I'm going to be here," said Campbell. "[Shanahan] told me that he liked how I'd handled everything over the past couple of years and the whole conversation was real positive. But we really didn't talk much about the past. When a team goes 4-12, most of the bad publicity goes to the quarterback. But I was still able to put up one of my best seasons despite all the turmoil."
Campbell showed a lot of loyalty to former coach Jim Zorn, but he knew early on that the organization was asking Zorn to wear too many hats. Campbell, who has lost count of how many offensive coordinators he's played for dating back to his Auburn days, said that Shanahan has brought instant credibility to the Redskins.
"With Coach Shanahan and Bruce Allen, there's already a new feeling to the team," said Campbell. "Guys are going to follow [Shanahan] because he has a proven résumé. The main thing we need is discipline, and you can already see that guys are carrying themselves in a different manner."
Campbell spent part of Super Bowl week in South Florida doing some research on the Redskins' new regime. Skins wide receiver Santana Moss is close friends with Texans receiver Andre Johnson, who had great things to say about new offensive coordinator Kyle Shanahan. And Campbell had a long conversation with Texans running back Ryan Moats about what it was like playing for Shanahan in Houston.
"The main thing Ryan told me is that I'll have a lot of fun playing for Kyle," said Campbell. "And he told me that Kyle was incredibly knowledgeable for such a young guy."
Campbell has handled the situation in Washington with a lot of grace, but he bristles when he hears critics talk about how he didn't throw the ball downfield enough in '09. In fact, I happened to catch him on the phone last month after he'd heard SI.com's Peter King criticizing him on a local radio station in Washington.
"I don't know how anyone can say something like that," said Campbell on Thursday. "Don't you think I wanted to throw the ball downfield? By the time I looked up, I was getting hit. I'm certainly hoping we have an opportunity to make some big plays next season."
For now, Campbell is attempting to avoid the mock draft industry. I helpfully informed him that ESPN's Mel Kiper now has the Skins selecting Clausen at No. 4 overall. In fact, here's how Kiper explained that pick on a conference call Wednesday:
"In the case of a player like Clausen or Bradford, I would take the quarterback first. I have Clausen and Bradford rated higher than [Anthony] Davis and [Russell] Okung. So I would go the quarterback first, then try to get the offensive tackle in the second round and hope that a Bruce Campbell or a [Bryan] Bulaga or somebody like that fell down to me."
Campbell didn't feel like it was his place to inquire about Shanahan's approach to the draft. He said he trusts the coach's experience in that department and will be prepared for whatever happens.
"I have to do whatever it takes to help us win," said Campbell. "All that other stuff will take care of itself. I'm certainly not going to be out campaigning for them to take other positions. They know how to do this stuff."