The NFL Blog Network is sharing some of its favorite tales from the draft room. Here's one of the funnier ones you might not have heard ...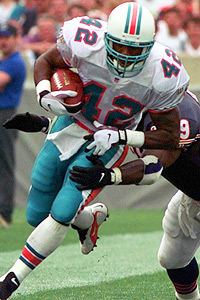 AP Photo/Michael S. Green
Fortunately for the Dolphins, running back Terry Kirby, a 1993 draft pick, was not blind.Within an NFL draft room, we envision the organization's brain trust engaging in passionate discussions about every prospect on their draft board. The exchange of information is thorough. The decisions made are educated. They are absolute.
Then there was the year Miami Dolphins coach Don Shula, upon being asked a question by a reporter, turned to his personnel chief and whispered incredulously "Did we draft a blind guy?"
No, the Dolphins didn't draft a blind guy in 1993. But in his annual draft preview, influential Pro Football Weekly draftnik Joel Buschbaum had printed an erroneous report Virginia running back Terry Kirby was blind in his right eye and the Kirby had difficulty catching passes over his right shoulder.
The Dolphins selected Terry Kirby with the 78th pick.
Shortly after Shula entered his post-draft news conference, he was asked about Buschbaum's report. Shula's knees nearly buckled as he asked director of player personnel Tom Heckert what they'd just done.
Shula's heart rate returned to normal when team physician Dan Kanell, who examined Kirby at the combine, assured the coach Kirby had perfect vision in his left eye and 20/40 sight in his right eye, not poor enough to require glasses let alone special instructions for Dan Marino to throw to Kirby only in the right flat.