Are the Packers who we think they are?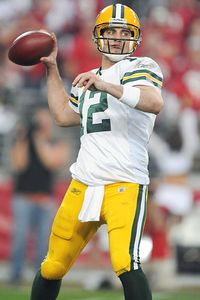 Kirby Lee/Image of Sport/US Presswire
With nearly the entire team returning, and Aaron Rodgers at quarterback, the Packers should be elite this season.I thought I was stepping out on a limb by suggesting the Packers should be the preseason favorites in the NFC North. This week, Sports Illustrated's Peter King took things up a notch by placing the Packers atop his spring power rankings. For the entire NFL.
Here's what King wrote:
It's not just the maturation of Aaron Rodgers. It's the carryover from a fluky end to 2009 (the weird playoff loss at Arizona) and the fact that only one team in football -- New Orleans -- had a better point differential than the Pack's plus-164 last year. I like Jermichael Finley to become a great player in his second starting season. I don't trust the pass-rush (where Clay Matthews is the only real thing), and I worry about two of the top three corners coming off ACL surgery, and aging. But the defensive front is formidable, and a very good match for the good run teams of the NFC North. I also like Weeks 2 through 5 on the schedule (Buffalo, at Chicago, Detroit, at Washington), which sets up for a strong start.
I agree with much of King's assessment, especially the Packers' early schedule -- one that could have them 5-1 or 6-0 entering an Oct. 24 Lambeau Field showdown with the Minnesota Vikings. We've discussed Finley's projection several times this offseason. Most importantly, the Packers have every reason to believe they have an elite quarterback -- a critical ingredient for any championship-caliber team. Everything about Rodgers' first two seasons suggests he should be considered among the game's five best starters.
But that's as far as we can go. Preseason projections give us something to talk about in May -- when the regular season is a tortuous four months away -- and nothing more. Division champions? Super Bowl winners? Who knows. There are too many unpredictable hurdles in an NFL season to make any kind of serious projection.
All we can say with certainty is the Packers will return the same team that won seven of its last eight regular season games last season.They have the makings of a really good team -- and should be deeply disappointed if they aren't.