ORCHARD PARK, N.Y. -- Marshawn Lynch has accepted the fact he's still a member of the Buffalo Bills.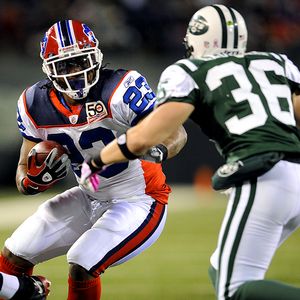 Rich Kane/Icon SMI
Bills running back Marshawn Lynch is excited to see what the rival Jets are doing, both on the field and in the video game world.But when he thinks about stepping outside of reality, he can't wait to play with the New York Jets.
Lynch has been captivated by all the offseason moves the Jets have made. When the "Madden 11" video game comes out in August, the Jets will be Lynch's team.
"I'm probably not supposed to say that, but I'm excited to see what the Jets are going to do," Lynch told me after Thursday's minicamp practices. "I'm real excited.
"Now that's a team that I'm going to pick and play with on Madden. That's real talk."
Lynch certainly will have a better chance to win with the Jets than he will with his own team on "Madden 11." The Jets have a team rating of 89, fourth-highest on the game. The Bills scored a 67, higher than only the St. Louis Rams.
I asked Lynch what Jets acquisition has impressed him most.
He nodded emphatically as I went down the line: Antonio Cromartie? Santonio Holmes? Jason Taylor? LaDainian Tomlinson?
"Ooooo, see? They made so many moves it's hard to just pinpoint one," Lynch said. "I am a running back, and LT ... Man, one of the best that ever did it. I'm going to be excited to see him twice a year. Santonio and [Darrelle] Revis and Cromartie over there, that's going to be interesting."
Lynch acknowledged the Jets are gambling with team chemistry. They've brought in some large personalities and parted ways with leaders such as running back Thomas Jones and kicker Jay Feely.
"They are taking some risks," Lynch said. "Hopefully the risks they take are going to pay off for us. But that's going to be something fun to watch."
Don't think Lynch has surrendered his Buffalo allegiance.
After months of speculation Lynch would be traded and his delayed arrival to the practice field, he claimed he's excited about how the Bills' backfield is shaping up among himself, Fred Jackson and rookie C.J. Spiller. Undrafted rookie Joique Bell also is in the mix.
"It's going to be a great thing to see on paper, fantasy, live, in practice, in video games," Lynch said. "However you can see us get down to action and regardless of who the No. 1 is, even if I'm No. 5, it's going to be beautiful to watch us play."