The two biggest trash-talkers among NFL quarterbacks are the Carolina Panthers' Cam Newton and the Los Angeles Chargers' Philip Rivers, according to a player survey conducted this season by ESPN's NFL Nation.
Reporters polled 155 players to gauge their opinions on the league's passers. Players were asked to identify their favorite rookie, the most overrated and the quarterback they would most like to sack.
While trash-talking isn't always associated with quarterbacks, four of them received notable mention in the survey: Newton, Rivers, the Green Bay Packers' Aaron Rodgers and the New England Patriots' Tom Brady.
Newton occasionally has drawn the ire of opponents for elaborate touchdown celebrations, most notably Tennessee Titans linebacker Avery Williamson in 2015. Rivers has displayed a fiery on-field persona throughout his career, beginning with legendary screamfests with then-Denver Broncos quarterback Jay Cutler.
Note: The charts below feature the players who received the most votes in each category and excludes the many players who received few votes.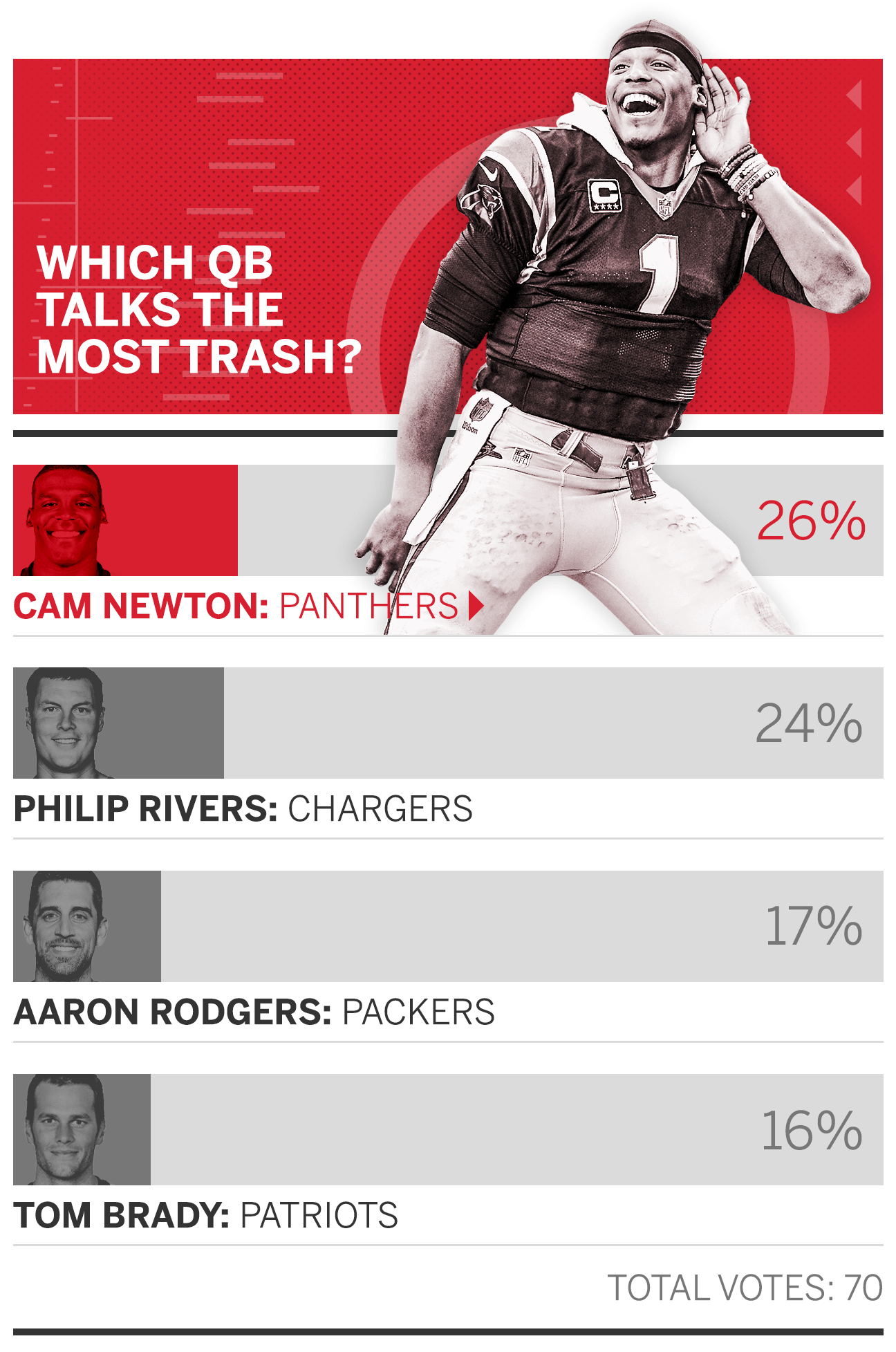 Brady has cultivated an even-keeled off-field countenance throughout his career, but it apparently changes when he steps on the field. "People don't really know that," said a player who voted for Brady.
In what might not have been a coincidence, 49 percent of the players polled said they want to sack Brady more than any other quarterback.
"Most of the time after a sack, you get a good picture with the quarterback on the ground next to you," one player said. "That's why I would love that."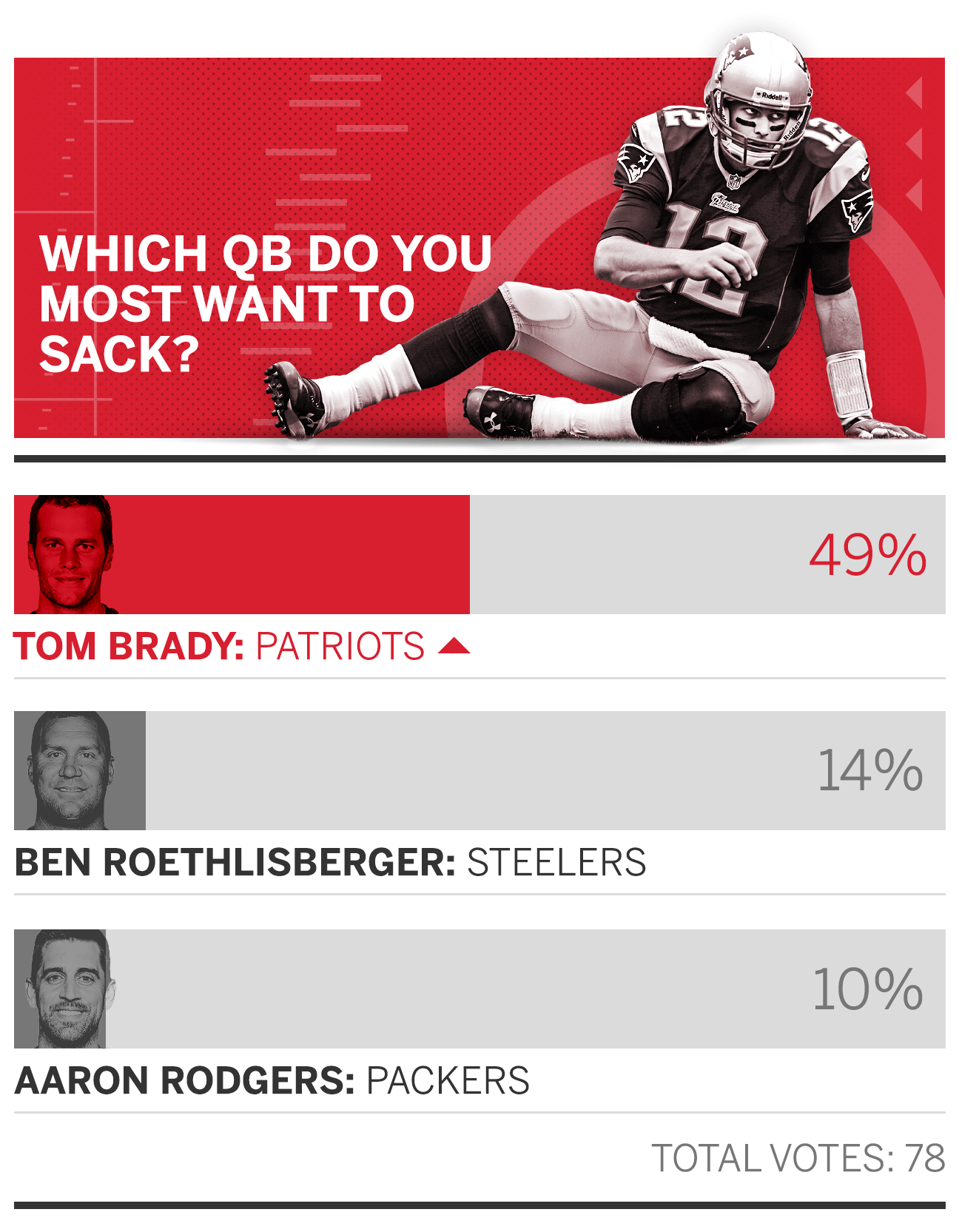 It was Cutler, however, who won the most derisive nod in the survey. Of those responding, 42 percent said he was the one NFL quarterback they would not want as a teammate. No one else received more than 6 percent of the vote.
Cutler has never overcome the consequences of his surly and dismissive demeanor on and off the field early in his career, culminating with a torrent of criticism he received for sitting out the second half of the 2010 NFC Championship Game because of a knee injury. More recently, his meme-worthy refusal to move while positioned as a receiver in the Wildcat most likely reinforced any convictions that had otherwise faded.
"I'm not even sure he wants to play," one player said of the current Dolphins quarterback.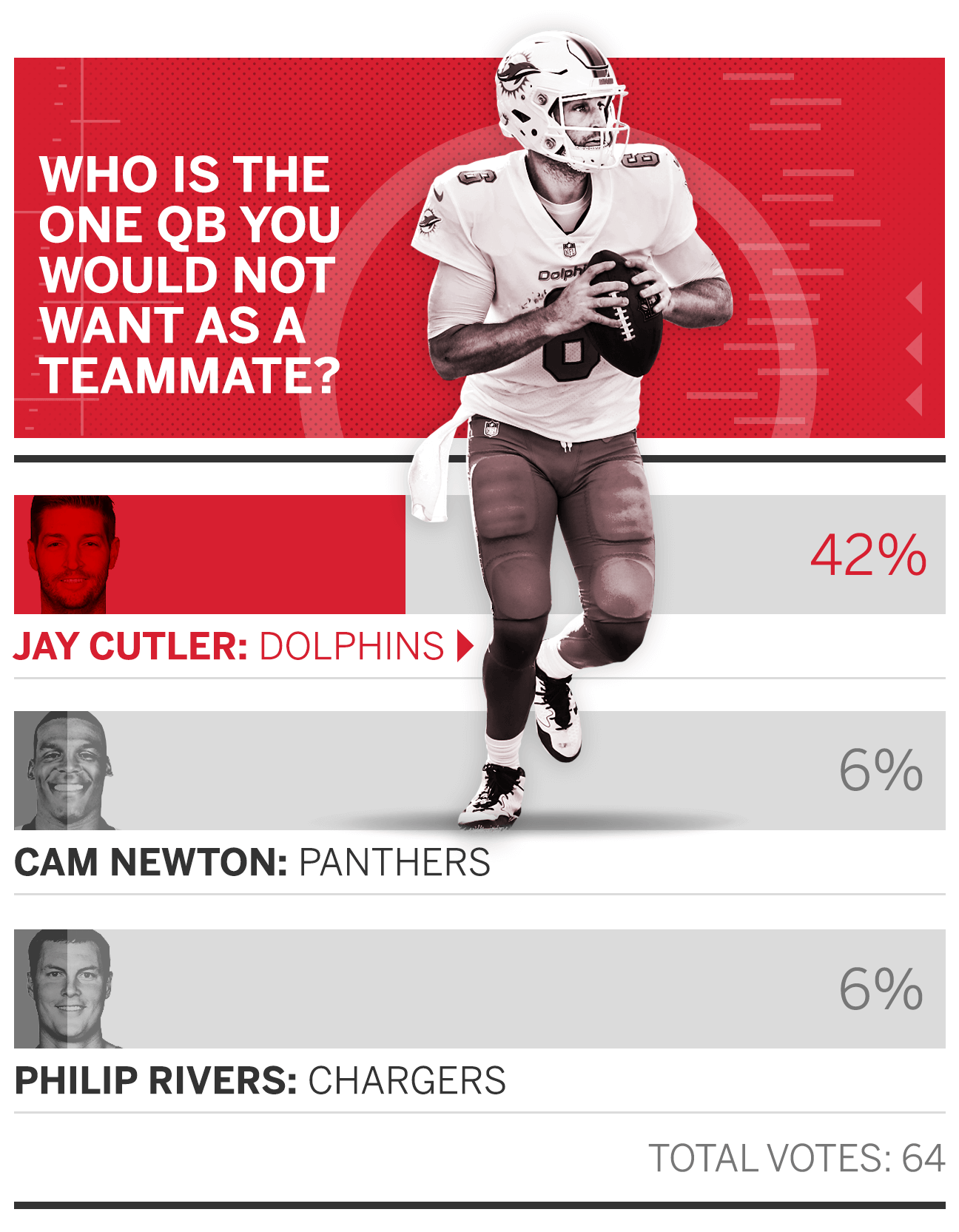 Cutler did escape the wrath of those who named the NFL's most overrated quarterback. That honor went to the New York Giants' Eli Manning, who has won two Super Bowl championships but ranks No. 30 in Total Quarterback Rating (QBR) in the five seasons since he turned 31 years old. The Giants are 31-39 since that point.
The Indianapolis Colts' Andrew Luck, who has missed 14 games in the past three seasons because of injuries, received prominent mention. So did the Baltimore Ravens' Joe Flacco, who hasn't been much better than Manning over an extended period of time. Since the Ravens won Super Bowl XLVII, Flacco ranks No. 26 in QBR. The Ravens are 32-32 in his starts.
"I think he's kind of living off that Super Bowl," one player said of Flacco.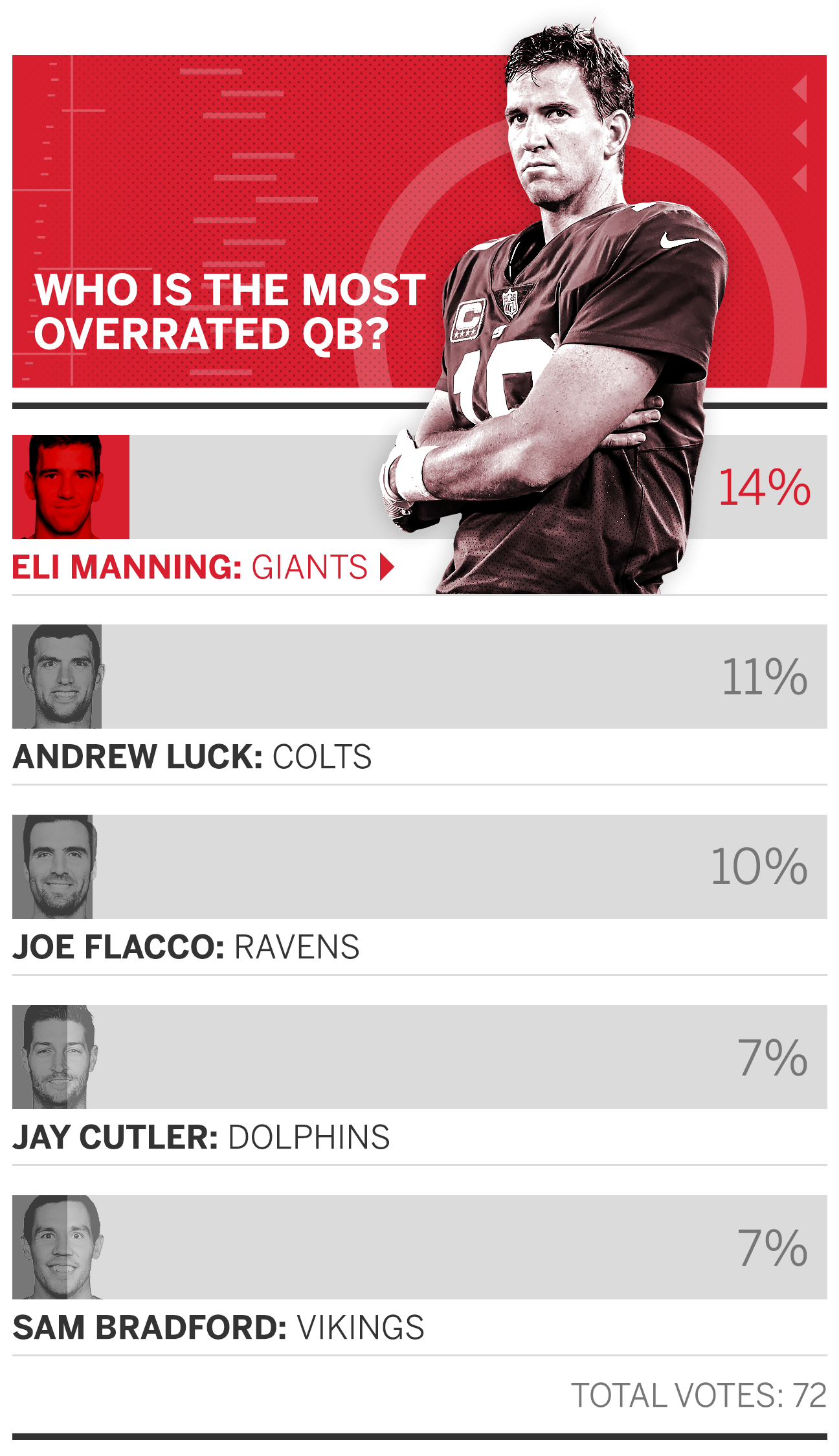 Players don't have much faith in either Manning or Flacco to return to their previous glory. Their favorite to win the most Super Bowls over the next 10 years is Brady, even though he turned 40 in August.
Brady has embraced and invested in a healthy lifestyle and expressed confidence that he'll play well into his 40s.
"He'll probably go another six years," one player said.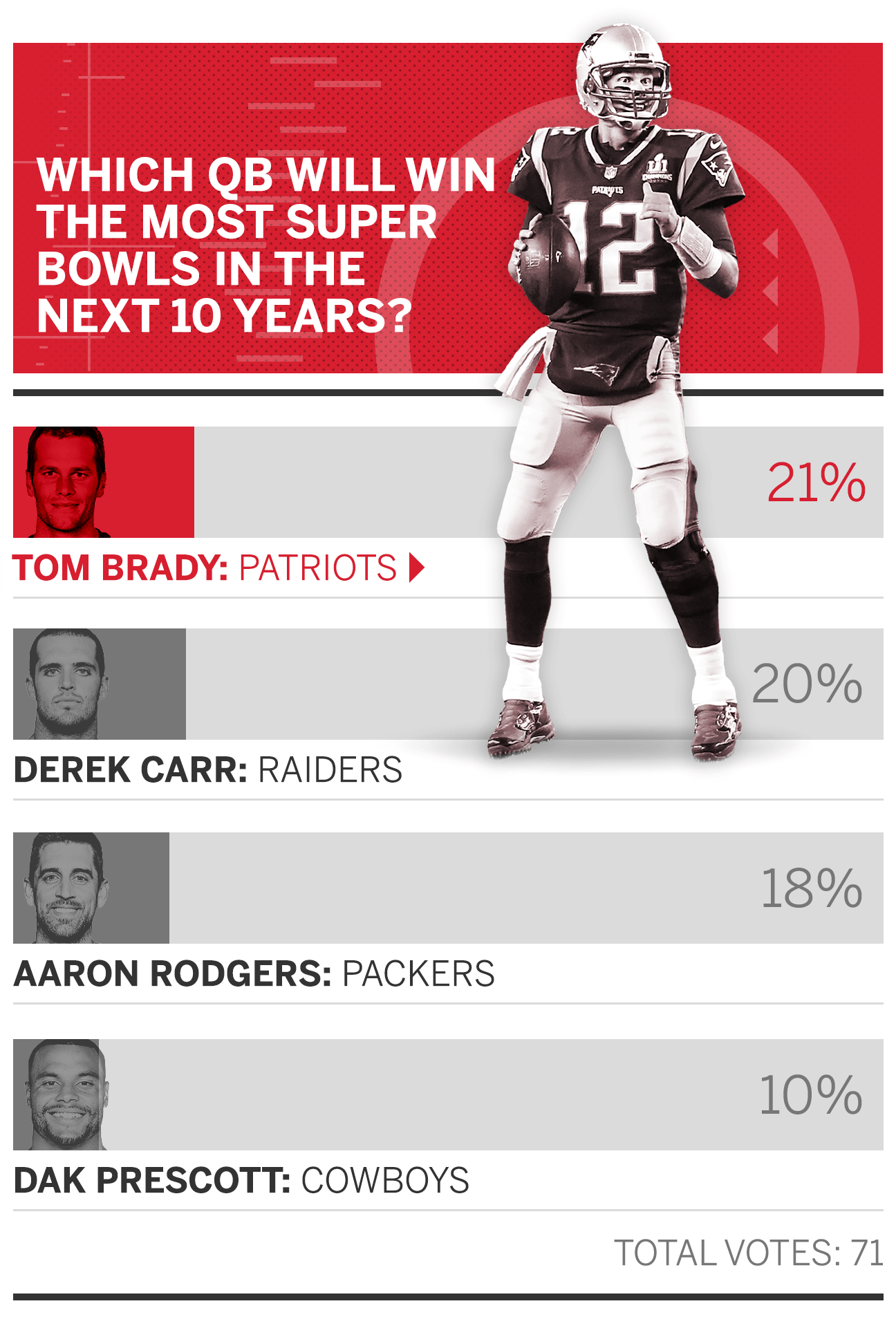 To the extent that someone named Brady or Rodgers doesn't dominate the position into the next decade, players are most bullish on the Houston Texans' Deshaun Watson. More than three out of every five players surveyed picked Watson over the Chicago Bears' Mitchell Trubisky as the rookie quarterback most likely to succeed in the NFL.
The Texans are 3-2 in Watson's starts and his mobility (202 rushing yards, two TDs) has catapulted him to the NFL lead in QBR (80.7).