It goes without saying that competition in the NFL is fierce. Any edge, even a small one, will be pursued if it means the difference between a win or a loss.
Finding that edge can lead to interesting, and sometimes unique, drills.
The Dallas Cowboys, for example, are requiring their receivers to carry bricks from one end of the end zone to the other to build their hand strength. Washington Redskins safety Josh Norman is wearing a weighted vest in practice in hopes he will feel lighter, and therefore be faster, in games.
Several years ago, the Kansas City Chiefs had a training-camp drill in which a receiver would get into a port-a-potty stationed near the practice field, shut the door behind him and take a seat. One coach then would throw a pass to the receiver while another coach would open the door immediately before the ball arrived. The drill was supposed to help receivers with their concentration skills.
Here are some other drills NFL Nation reporters have seen in camp this summer:
Ravens quarterbacks must hit three colored circles (red, green and yellow) on a net that hangs from the goal post. Quarterbacks stand about 10 to 15 yards back and must throw the ball at the designated circle. The purpose is to increase accuracy. -- Jamison Hensley

Packers receivers don't just catch balls off a passing machine; they stick their hands within inches of the machine to snag balls as soon as they're released. The "man hands" drill is designed to strengthen their hands given how quickly the ball comes out. Each receiver gets three chances in the drill -- one from each side of the machine and a third while kneeling in front of it. -- Rob Demovsky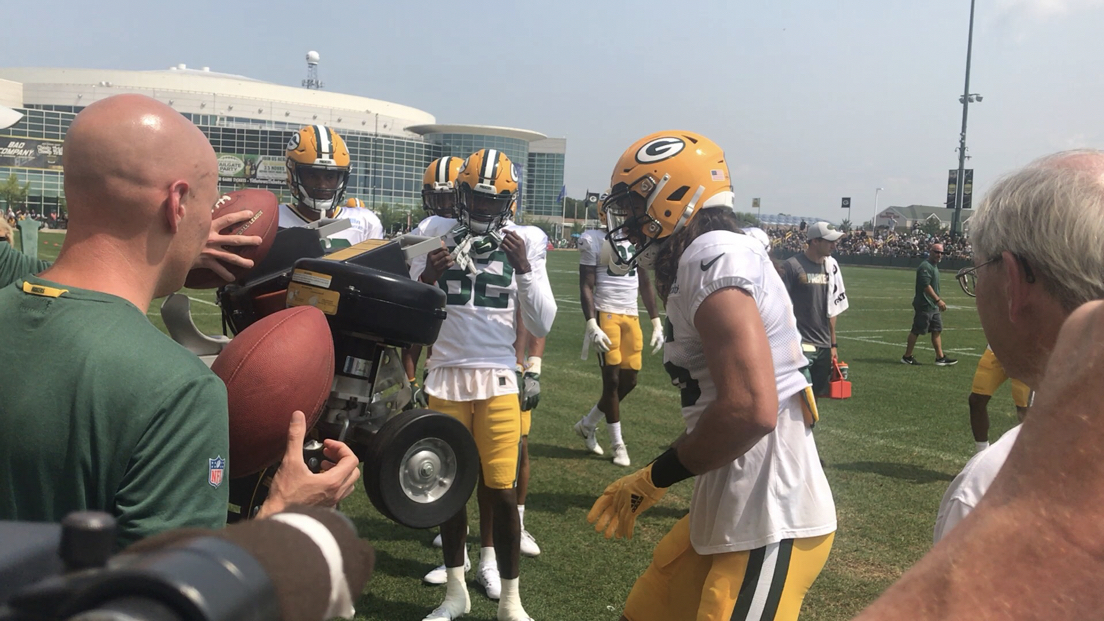 The Packers use the "man hands" drill to strengthen their receivers' hands.

Special-teams coordinator Joe DeCamillis uses giant fitness balls to help teach proper technique in kickoff coverage. Assistants roll the balls and players have to get around them, and blockers, to reach the ball carrier. It also helps the players use good form in tackling: They keep their head up, square up to the ball, and use their arms to wrap up and pick up the ball. -- Mike DiRocco

Running back Marshawn Lynch has been practicing while wearing a resistance band on his upper thighs. Raiders coach Jon Gruden said: "He's had a really good camp. ... He has his own, I think, needs in terms of what he feels like he has to do to get ready. He's played long and hard and good enough in this league to earn that right. The problem is, we're going to have 14 more guys wearing the bands tomorrow. That's the way it usually goes." -- Paul Gutierrez

The Eagles have a four-wheeled cart they load up with free weights for players to push and run behind for some intense conditioning. Defensive end Brandon Graham once had defensive tackle Fletcher Cox jump in the vehicle and muscled him around the practice field for an extra-grueling workout. -- Tim McManus

The 49ers have a pair of interesting structures near their practice fields: a nearly 40-foot hill that strength and conditioning coach Ray Wright put in place last year, and something called an Egoscue patch, which resembles a set of oversized Lincoln Logs. The hill, which supports a 60-foot-long ramp on a 30-degree incline, is used for a variety of workouts and rehabilitation exercises while promoting good form. The patch is a series of wooden logs arranged at different heights and sizes. The 49ers and director of functional performance Elliott Williams use it for functional stretching with a focus on posture and joint alignment as a method of warming up before workouts.
"That's kind of the way that Egoscue works is to get everything going in line and getting in symmetry," tackle Mike McGlinchey said. "When you play football, all of us are very, very talented athletes, but we're also very talented at compensating for things that aren't working the right way. Especially playing offensive line, we're in one stance so often that our body just kind of adjusts to that naturally and it makes you feel a little bit better and heals a little bit faster when you're on line and in symmetry. ... That's what the patch is for, is to try and get everybody using muscles and things that they don't normally use and staying healthy." -- Nick Wagoner

Seahawks defensive end Frank Clark likes to use giant buckets of rice to improve his grip. It's a strength exercise that entails digging your hand into the bucket and grabbing as much rice as possible. It's an especially important drill for Clark, who is returning from injuries to both hands last season. He had surgery on his right hand in June. -- Brady Henderson

Buccaneers wide receivers don't just catch balls from the passing machine; they do it blindfolded. They'll put towels over their faces and practice making the catches using the rest of their senses. -- Jenna Laine

Titans running-backs coach Tony Dews brought "High and Tight" footballs to training camp this year. The balls make a beeping sound when five points of pressure are applied while carrying them. It's a new way to emphasize ball security for Tennessee's ball carriers.
"Trying to have five points of pressure and five points of contact on the football at all times, and if you hold it correctly, it makes a noise," Titans coach Mike Vrabel said. "It reminds them that they're not holding it correctly. Apparently, I've never held a football because I couldn't get it to beep, and that's what happens when a defensive player tries to hold the ball.
"Ball security is job security." -- Turron Davenport