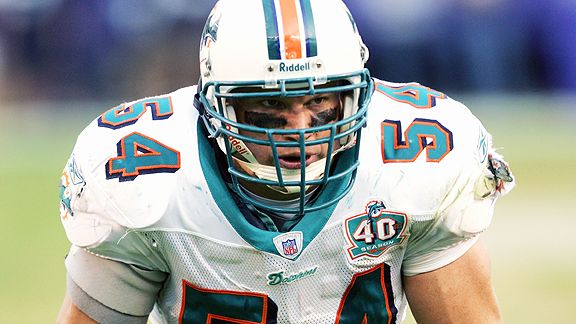 Stephen Dunn/Getty Images
Former Dolphins linebacker Zach Thomas is one of a growing number of NFL players vowing to donate their brains to research.At least 20 times, the memory came crashing back for Don Hasselbeck.
In a flash, he was a teenager again, a star tight end for La Salle High in Cincinnati. His quarterback had thrown an interception against Purcell. Hasselbeck went into hot pursuit. The rumbling ball carrier veered toward him, driving a knee into Hasselbeck's head.
A few moments later, Hasselbeck regained his senses and sat upright and surveyed the La Salle teammates and coaches that had gathered around him on Purcell's field.
Only he wasn't a teenager anymore. He was a New England Patriot in Schaefer Stadium. Or a Los Angeles Raider in the Coliseum. Or a New York Giant at the Meadowlands.
"Every time I was knocked out -- bang! -- I thought it was the first one in high school," Hasselbeck said. "I can be in the ninth year of the pros, and think I was on that high school field. What is that in my brain that gets triggered to make me think I'm 18 years old?"
Hasselbeck estimated his number of concussions "on the 20-plus side" before his nine-year NFL career was over in 1985. He traveled back in his cranial time machine on every nasty headshot.
He's worried those repeated brain injuries will impact his life.
"I get concerned when I read articles of guys killing themselves or being depressed or dementia or Alzheimer's," said Hasselbeck, a mostly healthy 54-year-old and a longtime Reebok executive. "That scares you. You don't want to see these guys falling apart in front of you."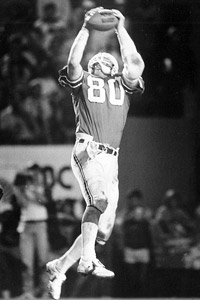 Al Messerschmidt/NFL
Over the span of his nine-year career, tight end Don Hasselbeck estimates he suffered more than 20 concussions.Hasselbeck is among a growing crowd of retired and active NFL players who have pledged to donate their brains to the Center for the Study of Traumatic Encephalopathy at Boston University School of Medicine to research the long-term impact of football-related head trauma.
The registry for what's known as "the brain bank" -- housed at the New England Veterans Administration in Bedford, Mass. -- is up to 250 players who want to further a cause that began when Chris Nowinski, a Harvard alum and former pro wrestler, got inquisitive about his future after suffering six concussions.
Nowinski and Dr. Ann McKee founded the center. Their findings from CSTE research -- that players are highly prone to clinical depression and early onset of Alzheimer's -- has triggered sweeping changes in the way the NFL views head trauma and could transform the way the game is played both on the practice field and on Sunday afternoons.
"We've made remarkable headway," Nowinski said. "I don't think I ever dreamed the NFL would agree there was a problem. For legal reasons, I just didn't think they'd admit it. It was the pathological research, the brains of the deceased players, pressure from the active and retired players who were courageous enough to stand up."
Nowinski's passion is collecting autographs and game-used equipment.
The autographs are signatures of players such as Baltimore Ravens center Matt Birk, Arizona Cardinals receiver Sean Morey, former Miami Dolphins linebacker Zach Thomas and Hall of Fame cornerback Mike Haynes; the game-used equipment he gets them to consign are their brains.
"Once I'm dead, I'm not going to need it anymore," said former Buffalo Bills guard Conrad Dobler. "I plan on being cremated. I always wonder what they do with all those parts.
"But if I'm going to be cremated anyway because I don't feel like laying in a casket and having worms eat my body for eternity. My brain will live forever to help some others, and to let the world know that I actually had one."
Nowinksi wrote the 2006 book "Head Games: Football's Concussion Crisis from the NFL to Youth Leagues." About a month after the book was released, former Philadelphia Eagles safety Andre Waters committed suicide. Nowinski convinced Waters' family to donate his brain for research, a seminal moment for the brain bank.
Waters' brain was examined by Dr. Bennett Omalu in Pittsburgh, and it resembled those of Mike Webster and Terry Long, former Pittsburgh Steelers who died young after bouts with depression and dementia.
"We started with guys who were disasters," Nowinski said. "Now we're moving on to guys who might or might not be impacted in varying degrees. But these are people who are committed and recognize the problem and want to be a part of the solution."
Nowinski's cause has reached a level of consciousness where players are approaching him to will their brains without him needing to deliver a sales pitch.
"I told him I would donate my brain," former Bills offensive lineman and SI.com columnist Ross Tucker said. "I was never diagnosed with a concussion, but I can remember at least four plays during my career where the collision was just different. When you play football for 18 years, you can tell when something's different.
"For 10 to 15 seconds after, I was thinking 'Wow. That was crazy. I don't know what happened there, but I don't like it.' "
The CSTE scored a major victory in December, when the league announced it would impose stricter guidelines on players returning from concussions and teamed up with the Center for Disease Control to produce a public-service announcement that urges youth coaches, players and parents to be educated on the dangers of head injuries.
"That showed me there was no going back," Nowinski said.
The next step is enacting rules that protect players from Pop Warner and up.
Nowinski referred to testimony Houston Texans guard Chester Pitts gave before Congress. Pitts declared he would forbid his son from playing football because it was too dangerous.
"That's kind of creepy that he's exposing himself to a violent game he wouldn't let his own son play in," Nowinski said. "That's a sign we need to change things."
NFL commissioner Roger Goodell appeared Sunday on "Face the Nation" and told host Bob Schieffer the league would consider eliminating the three-point stance. Nowinski, citing research that shows 75 percent of head shots occur in practice, raised the possibility of no-contact, helmet-less workouts.
"There always will be four downs," Nowinski said. "A touchdown will be worth six points, a field goal worth three points. But how we hit each other, how we collide has to change."
While Tucker dismissed abolishing the three-point stance as meaningful (linemen don't build up enough momentum in such a short space to make that type of contact significant), he lauded the NFL's decision last spring to eliminate the wedge on kickoff returns as a step in the right direction.
Players on return and coverage teams generally are the last 10 players who dress on game day, the most easily replaceable parts.
"How hard they run down there and how hard they hit that wedge is the difference between 650 grand and going back to Columbus, Georgia, to find a job for 12 bucks an hour," Tucker said. "If those were your options, you'd hit that wedge pretty damn hard, too."
Tucker also would like to see certain drills outlawed. He described what he and his Washington Redskins teammates called "the headache drill" in 2007. Offensive linemen would take on a linebacker at full speed, the frequent result being a helmet-on-helmet collision.
"We hated it," said Tucker, a Princeton alum who retired that year because of herniated discs in his neck and back. "I remember feeling my brain rattling around.
"I don't think it has truly impacted me, but there are times when I forget stuff that I shouldn't. I've always been known for having an amazing memory, but it just seems there's short-term stuff I don't remember sometimes.
"I'm not concerned about it, but there's probably something going on, and if I can help in any small way, I'm willing to do that. Guys are only going to get bigger, only going to get faster. Unless we do something, it's only going to get worse and worse."