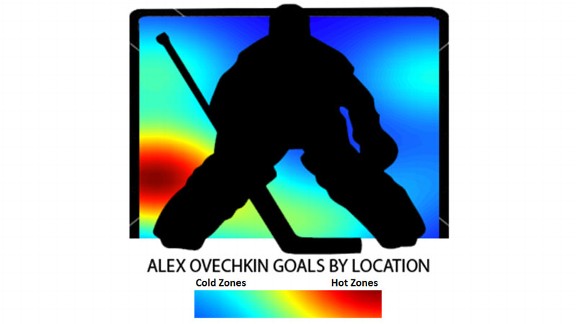 A visual look at the goal locations for Alex Ovechkin.
Here's a "Next Level" look inside the matchup that will likely determine the outcome of the New York Rangers-Washington Capitals series.
Alex Ovechkin Goals by Location
2013 Season
The image above shows Capitals star Alex Ovechkin's scoring strengths.
Ovechkin scored 18 of his 32 goals to the stick side of the goaltender this season. Of those 18 stick side goals, 13 were below the blocker.
But keep this in mind: Rangers goalie Henrik Lundqvist was tough to beat low to the stick side, allowing only 9 goals low stick this season, his fewest in any zone.
Lundqvist's weakness was glove-side, high shots, which interestingly is an area in which Ovechkin does not score a lot.
The image below shows the areas in which Lundqvist allows the most/least goals.