BRANDON, Fla. -- At the end of Sunday's scrimmage, an entertaining tilt decided in a shootout, Tampa Bay Lightning netminders Dan Ellis and Mike Smith found themselves nose to nose with each other at center ice, prodding each other in the face mask with their catching gloves.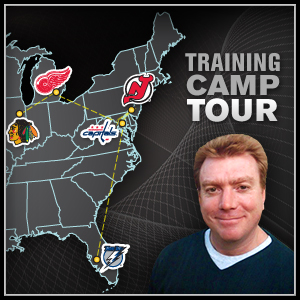 Watching Ellis and Smith joust good-naturedly with each other may reinforce the notion that competition begets animosity, that to compete with you is to hate you. Or at least disregard you.
Not so, at least not in the case of these two longtime friends.
Make no mistake, the Lightning's goaltending situation promises to be one of the more compelling storylines for a team from whom much is expected this season.
With new ownership and new management led by GM Steve Yzerman, and an offense that looks, on paper, to be as potent as most in the Eastern Conference, the team's goaltending may be the factor that ultimately determines success or failure.
And make no mistake, both goaltenders have much to prove here in Tampa Bay.
Smith was acquired from Dallas at the 2008 trade deadline to become the goaltender of the future in Tampa. But a concussion derailed his first full season and last season he gave way to Antero Niittymaki as the Lightning's starter.
"Obviously last year was not a good year for me," Smith said in an interview after Sunday's scrimmage. "I know that. I have to improve on that."
In the final year of his contract in Tampa Bay, this season looms as a seminal one for the 28-year-old Smith.
"I think it's probably the biggest year of my career. I know I can be a good goaltender," he said.
Ellis, meanwhile, was signed a two-year deal as a free agent this summer. Yzerman saw Ellis at his finest as a member of the Nashville Predators during the 2008 playoffs, when the Predators nearly knocked out Yzerman's Red Wings.
Still, Ellis could not assume the No. 1 role with the Preds as top prospect Pekka Rinne became "the man" in Nashville, making Ellis superfluous. Now, he is in Tampa to prove he's got the game to be a No. 1 NHL netminder.
To do so, of course, he will have to outplay his old friend. The two netminders were both Dallas Stars prospects and met in Utah during the 2002-03 season. In 2005-06, they shared the goaltending duties in Iowa with the Stars' AHL affiliate. They shared time between the pipes, but also lived in the same community in town.
"It was one of my most fun years, in the AHL, maybe in my whole career," Smith said.
"We hit it off right away. We've always been good buds," Ellis added.
It may seem incongruous to think that the man who sits across from you and wants to take your job may also be your friend. Yet the two insist it is not just possible, it is the reality.
"I look at it as a bonus. We're here to help each other out," Ellis said. "You're competing against other teams. You're not competing against your teammates."
Smith concurs. He noted that when he was named to the NHL's all-rookie team in 2006-07, he was playing alongside his good friend Marty Turco.
"It's was a very healthy situation," Smith said. "I think it can work to your advantage more than against you."
The Lightning are banking on the fact the two friends will not only continue to get along, but also combine for enough wins to push the Bolts back into the postseason.