ARLINGTON, Va. -- In the end, whether a player is "good" with the media, or cantankerous and sullen, only matters to, well, the media.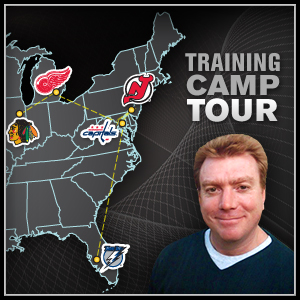 And having carved Alex Ovechkin for having been more the latter at various times, we admit to taking some small satisfaction from the flameout of Ovechkin's Russian squad at the 2010 Olympics and again at the World Championships later in the spring.
But lately, we've been wondering if that was just us being small.
And we've been similarly wondering if maybe we are hypercritical of Ovechkin because, well, he's an easy target. He's Russian. He's sometimes flippant (as he was in the playoffs, making fun of Montreal netminder Jaroslav Halak). And because he hasn't had the success of, say, a Sidney Crosby, it makes it easier to pile on.
"He's outspoken, too," Washington coach Bruce Boudreau suggested in an interview Tuesday. "So that makes him an easier target because people want to prove everything that he says wrong."
Maybe that's part of it. But certainly whatever carping we've done about Ovechkin it is no reflection of how he conducts himself on the ice.
Bring it? There is no coast in his game. Not even in training camp.
"We play out here this little thing called the 'Duchesene Cup.' Did you see him? First one over to get the trophy," Boudreau said.
He was right. There was Ovechkin, leading his white-clad teammates off the ice at the team's practice facility with the trophy in his hands, a big grin on his face.
"If you play cards with him on the plane, you don't think he wants to win every single game? He just wants to win," the coach said. "He goes about this other stuff, but to me, it's the best façade in the world, of being happy-go-lucky, which he is. But his burning desire, don't ever lose sight of how much he wants to beat everybody at anything.
"There's very few people like him."
Ovechkin seems more at ease this fall, too. Less grumpy.
During a recent interview with ESPN.com in New York, he joked about how his back was sore from too much dancing at a concert at the new Yankee Stadium. He was also candid about what he believed were the team's problems in failing to close out Montreal after building a 3-1 series lead in the first round last spring.
"I think we wanted it so bad," Ovechkin said. "I think our emotions were so high and we just, when we got winning 3-1, we just stopped playing and stopped doing what our coaches said. It was our mistake, but when you make some mistakes and you know what your mistakes were, you start doing better things. You won't do the same mistakes like you did last year or a couple of years ago."
Ovechkin figures the Capitals need to focus more on closing out teams once they get to the postseason.
"I think, three years in a row, we were in the playoffs and every series we had was seven games," Ovechkin said. "It's pretty hard, that kind of situation, to move forward. You have to try to win 4-0 or 4-1 to get fresher than different [next] team. If you don't win like this, it's pretty hard in the second round or the third round or in the final.
"I think we learned if we get the lead, we have to continue to play how we played before," he said. "Don't stop playing. Like, 'Oh, 3-1, oh, stop playing.' You can see what happened."
On a personal note, Ovechkin, who had 50 goals and 109 points despite missing 10 games with injury and suspensions, insisted he isn't worried about personal goals.
"I just want to win. I don't care about my game actually now," he said. "I just want to win. I just want to do my best to help the team to win."
We're not sure whether being friendlier with the media will help Ovechkin achieve that goal. In fact, we're pretty sure there is absolutely no correlation between the two. But maybe it's a sign of maturity, and maybe it's time to cut him a little slack, too.