ARLINGTON, Va. -- And so, we come to the curious case of Mike Green.
He is one of the most dynamic defensemen to pull on skates in the NHL.
He has been nominated twice in a row for the Norris Trophy.
In the past two seasons, he has also collected 149 points. That's not a misprint: 149 points.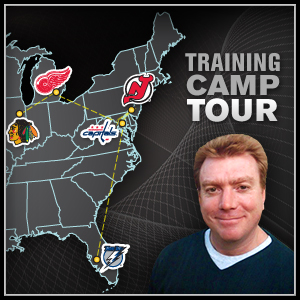 The only other active NHLer who has managed a 70-point season from the blue line is Nicklas Lidstrom. Green is only the seventh NHL defenseman all-time to have back-to-back 70-point seasons before the age of 25.
To watch Green in full flight, joining the potent Washington Capitals' rush is to understand why fans buy tickets.
And yet despite all of this, he is also among the most maligned of stars in the conference, if not the entire league.
For two straight seasons, Green has followed up stellar regular-season campaigns with playoff performances that can only be described as underwhelming. After scoring 50 goals during the past two regular seasons, he has managed just one in his past 21 postseason games.
Two years ago when the Caps blew a 2-0 series lead against Pittsburgh in the second round, there were questions about Green's conditioning and lifestyle. Last season, it seemed as though he was trying to do too much, perhaps trying too hard to prove people wrong (the Caps fell off the map against Montreal after leading 3-1 in their first-round series).
Regardless of the root cause of the drop-off in performance at critical times, this is a seminal season for Green. And to his credit Green, who won't turn 25 until the second week of the regular season, seems to have embraced the challenge of turning critics into believers.
Some of the changes are obvious. He looks leaner. He has been a leader on the ice during training camp scrimmages and drills. Part of the physical changes can be explained by a new offseason workout and diet regime.
"I think in past years I've trained hard, but me and my trainer Doug Crashley out of Calgary really focused this year on being powerful and I feel great," Green said in a recent interview.
Gone are all the good yet problem foods.
"Now, it's the egg whites and the chicken and stuff like that," Green said. "I'm trying to keep my diet good and that's the thing -- what you realize is it's such a long season and you really have to take care of your body and this is the way to do it. It's down to a science now with us. I feel great and I'm not going to stray away from that."
While Green pledges to hit the postseason in the best shape of his life, what remains to be seen is whether he can bring a new mindset to the postseason.
Capitals coach Bruce Boudreau has been unfailingly supportive of the Calgary native. The coach said Green is fully aware of the criticism, but believes Green has taken steps toward growing up in the face of that disparagement.
"I can only imagine this scenario," Boudreau said. "You come up and you're a player and you finally make the NHL, which is so great. You never think it's going to happen. It's not like he was a third pick overall, he was 29th or something. And then all of a sudden, you get this rock star status."
There are commercials and he's recognized all over the city.
"I think now [he's] hit that maturity and I think he's going to handle it great," Boudreau added. "I'm so excited for Mike this year. It's unfair that he takes the brunt of the criticism in playoffs, but I think it comes with the fact that he's so good during the regular season that you're not allowed to be average. And that's what happens to superstars."
For his part, Green acknowledges the criticism.
"You find yourself thinking about it. It eats away at you. It's something you try to put behind you, but it's definitely still there," he said. "But it's one of those things that, what doesn't kill you makes you stronger. And we have to move forward here, not only as a team but as individuals.
"It's part of the game and part of being a professional athlete, dealing with that kind of stuff," he added. "But you obviously hear things and it triggers you to think about certain things. But at the end of the day, you just have to be yourself and you learn that quick. But right now ,we'll take all the criticism on our back and we'll deal with it. But I think if we win, it'll change a lot of opinions."
Last spring, Boudreau went out of his way to point out that Duncan Keith of the Chicago Blackhawks didn't get off to a good start in the playoffs against Nashville. Keith, last season's Norris Trophy winner, rebounded and was a catalyst to the Hawks' winning their first Stanley Cup since 1961.
"There's a parallel, there's a very good parallel," Boudreau said Wednesday before the Caps jetted off to Columbus for their first preseason game. "You get over the hump and you get over the every-day criticism that you're getting, and all of a sudden, you get back to not pressing and playing the way you are or you're capable of doing and it's something to worry about in April.
"Just looking at [Mike] and the way he's come in and his attitude, the way he's trying to do so many things ... he won't tell anybody [certain things] about charities and stuff [that says] 'This is so Mike Green.'
"I wish people did know more about that side of him because he's a really, really giving young man."