GLENDALE, Ariz. -- There's a guy turning heads so far at camp for the Phoenix Coyotes and you may remember him: Kyle Turris.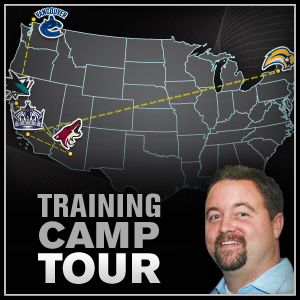 The third overall pick from the 2007 NHL draft is so far making a strong case to stick around, and his goal in Anaheim in a preseason game Tuesday night signaled he's here to make a statement.
"I've been impressed with Kyle so far," Coyotes GM Don Maloney told ESPN.com. "I think he's where he needs to be to make this team. So we'll see."
"Turris certainly hasn't done anything to hurt himself yet," Coyotes coach Dave Tippett added Wednesday.
While the Coyotes had their thrilling run last season, proving all the critics wrong by reaching the playoffs, Turris was in San Antonio, Texas, missing out on the desert party. And it was the best possible thing for him.
"I learned a lot last year -- faceoffs, defensive zone, anticipating on the rush -- a whole bunch of stuff I took with me," Turris told ESPN.com on Wednesday. "I feel like I grew as a player and I'm ready to take that next step."
Turris hasn't taken the most natural road here. He played 63 games with the Coyotes in 2008-09, but was physically overmatched at age 19. He just wasn't ready. He was sent to the AHL to hone his skills and mature as a player. But there are some in the hockey world who have rushed to judgment because of it, wondering what the Coyotes were thinking when they took him third overall in '07, two spots behind Patrick Kane.
Sitting at his office at Jobing.com Arena on Wednesday morning, we asked Tippett about Turris and the circuitous route he's taken so far in his pro career. He reminds us that Turris is only 21 years old.
"You have to keep in perspective where he is," Tippett said. "He came out early [after one year at the University of Wisconsin]. In fact, last year would have been his junior year at college. If he comes out after his junior year, the expectations aren't what they are right now. So you have to keep that all in perspective."
Looking back, it might have been wiser for Turris to have stayed in college at least one more year, but there's no point in playing armchair quarterback at this point.
"There's several different situations that could have happened, but you can only do the one that you're living in," Turris said.
This is the here and now, and this is a big camp for Turris. He's a three-year pro and it's time for him to take that next step.
"It's really important," said Turris. "I want to take advantage of it. I just want to make the team, so I'm going to do everything I can to make sure I do."
The Coyotes would love for Turris to earn that promotion. With the losses of Matthew Lombardi and Robert Lang, there are openings at center. The team is experimenting with natural winger Wojtek Wolski at center, just signed Eric Belanger last week and invited Kyle Wellwood on a tryout. But there's a definite opening there for Turris if he's ready.
"What I notice in Kyle now on the ice is that he looks like a man now," said Maloney, who made the decision to demote Turris late in the 2008-09 season. "He doesn't look like a little boy that has good instincts but physically is continually overwhelmed. You watch how he's shooting the puck -- he's just thickened up.
"Whether it's good enough to start with us and help us win ... there's a role here for Kyle on this team. He has everything we want in a player in regards to his [competitiveness], his second effort, his will -- he's a very driven kid. The next 2-3 weeks will determine whether he can come in here and grab a spot or does he need more time to continue that maturation process."
It's a stretch to say it's now or never for Turris. After all, he could start the year in the AHL and then be called up and have great success. But he looks as ready as he's ever been to finally get his NHL career going.
"I feel stronger than I've ever been," Turris said. "I'm in probably the best shape of my career and feel the most comfortable I have, so I feel ready."
Coyotes' UFAs
Two prominent Coyotes players are eligible for unrestricted free agency next July: star goalie Ilya Bryzgalov and top-four blueliner Ed Jovanovski. But with the team's ownership situation still not resolved, Maloney doesn't have the financial wherewithal to hammer out extensions at this point.
"Bryz emerged as a top-five goaltender last year," Maloney told ESPN.com. "We need him to do it again. If he does it again, that puts him squarely in good position to get the kind of contract those top players get. He's going into his last year. Until we have our ownership situation clarified, we're just going to sit tight."
The same goes for Jovanovski, who understands the situation.
"We've had talks with Donnie," Jovanovski told ESPN.com. "In fairness to him, his hands are pretty much tied right now. Until he has an owner to fund the team, I think he's caught in a tough position. I've indicated that I like it here. I think the team is headed in the right direction. It's not something I worry about. I just try to lead by example, play hard every night and see where that goes. Things usually find a way to work themselves out."
Bryzgalov shrugged off his contract situation.
"I don't pay attention to that," he said Wednesday. "I just have to focus on my game and help the team to make the playoffs and go as far as we can. I think we have a good team in here and we can challenge for the Stanley Cup."
Scottie Upshall, Radim Vrbata, Vernon Fiddler and Belanger are also UFA-eligible next summer.
Blue-line jobs
The loss of Zbynek Michalek has left a hole on the Coyotes' blue line. The team remains strong in the top four with Jovanovski, Keith Yandle, Adrian Aucoin and Derek Morris. Sami Lepisto, who played in the Olympics for Finland this past February, is likely penciled in at No. 5.
After that, there are definitely two openings. Shane Hnidy and Kurt Sauer are in the mix, but so are youngsters such as David Schlemko, Oliver Ekman-Larsson, Maxim Goncharov. Ekman-Larsson, 19, is perhaps the most intriguing; the 2009 first-rounder (sixth overall) has puck-moving and offensive skills. "He's a dynamic young player," said Tippett.