DETROIT -- Somewhere in Mike Modano's new place in Detroit, there is a slip of paper or Post-it note on which he has penciled in what he thinks he's capable of producing in his new hockey home.
It doesn't mean anything, necessarily, but is something to remind him of where he's at, where he needs to go.
"I think you need to do that. I just need to know, see those things written down, and you wake up every day trying to accomplish them," Modano said in an interview after the Wings' workout at Joe Louis Arena on Thursday. "If they're written down and you're looking at them, I think it's good for guys."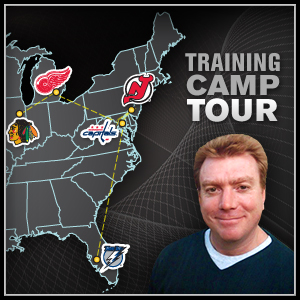 So, what did the 40-year-old center write down?
"I wrote down 20 and 30 -- 20 goals, 30 assists," Modano said. "I think with the talent and the possibility of playing a little power play there and whatnot, [it] could be close to that."
The whole Modano-to-Detroit adventure is shot through with more than a little of the storybook, more than a little nostalgia, maybe even more than a little redemption.
Modano is from Livonia, Mich. He played youth hockey in the Compuware program in suburban Detroit before playing junior hockey in the Western Hockey League and being drafted with the No. 1 pick by the Minnesota North Stars in the 1988 draft. He never left the franchise, following it from Minnesota to Dallas in the summer of 1993. Never left, that is, until this past summer.
The Dallas Stars were headed in a new direction, and that direction didn't include the franchise's most recognizable face, the man who had brought the Stanley Cup to Texas in 1999.
So, not long after he turned 40, Modano signed with the Red Wings.
If fans and media are curious as to how this is going to turn out or how much the slick-skating center has left in his tank, so, too, is Modano.
"It was one of the main decisions in coming here, just to see how this thing would play out and how it would be and a change of scenery and try and have a successful season or two before I was going to be finished," Modano said.
Detroit coach Mike Babcock isn't so worried about what's written on that sheet of paper as much as about getting Modano familiar with the system, getting him to feel comfortable with his linemates and the whole Red Wings family. If those things happen, Babcock is confident the points and goals will come.
Although Modano's production slipped in Dallas, where he had just 14 goals in 59 games last season and 15 goals in 80 games the season before, Babcock has put Modano in a position to succeed. It looks as if he'll start the season playing with skilled and speedy Daniel Cleary as well as Jiri Hudler, who scored 23 times in his last NHL season and returns to Detroit after a one-year stint in the Kontinental Hockey League.
"Yeah, pretty special possibility there," Modano said. "We're just trying to get familiar with one another, just trying to get as much time on the ice together to kind of work the kinks out and the bugs and try to get familiar with what we're trying to do and what each individual is comfortable in how they play and the tendencies they have."
Cleary, whose seat is currently next to Modano's in the Red Wings' locker room, praised Modano's shooting and puck-handling ability.
"Mo's going to be great. He's got good hockey in him still," Cleary said. "He's doing a lot more skating in camp than he needs to."
As Modano continues to absorb the new system -- he likens it to the attack system employed in Dallas under Ken Hitchcock when the Stars won the Stanley Cup -- he has a lot of company at the seniors'table in the team dining room.
Nicklas Lidstrom is back at age 40; Kris Draper (though now injured) is 39; there are three 37-year-old skaters in Brian Rafalski, Tomas Holmstrom and Kirk Maltby, plus 37-year-old backup netminder Chris Osgood.
"It's just tremendous drive," Modano said of those players' refusal to walk away. "A lot of success, obviously, and they love it. They keep working hard, just as hard as they did probably 10, 12 years ago. They're driven. There's purpose to when they come to the rink every day. It's refreshing to see."