CHICAGO -- Marty Turco and his family were watching Game 6 of the Stanley Cup finals in an airport on Maui.
By the time Patrick Kane snuck a bad angle shot past Philadelphia's Michael Leighton to give the Blackhawks their first championship since 1961, Turco and his family were on the plane and his heart sank.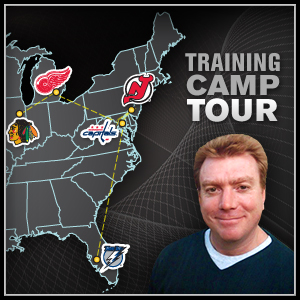 Turco was soon set to become an unrestricted free agent after 10 years in Dallas and had targeted the Blackhawks as a team where he might fit in. But he figured Chicago's Cup win would close that door.
"When they went and won the Cup, it was, 'Oh, scratch them off the list and see who else we could target,'" Turco told ESPN.com on Saturday.
Yet as the summer progressed and the Blackhawks' salary cap issues became more and more pronounced, they ultimately walked away from an arbitrator's ruling on netminder Antti Niemi and the door opened once more for Turco.
The strange thing is that for most of his NHL career, Turco gave little thought to playing for any team other than Dallas, the team that drafted him 124th overall in 1994.
"I guess you always thought about it, just an inevitable feeling to wonder what it's like on the other side, in another room," Turco said. "I certainly was no different. But I never once wanted to leave or asked to leave, so I really never really put much stock into letting it get past more than a thought I guess."
When the Cup champs' goaltending job opened up and they approached the 35-year-old Turco about signing a one-year deal worth $1.3 million, he didn't really know what to expect.
Suffice it to say whatever expectations he might have had, whatever he might have imagined, they've been exceeded in the early going.
"I didn't know what it was like or have expectations, and then to turn around and walk into this environment, with this group, [it starts] at the top with Rocky Wirtz and the family," Turco said. "The opportunity for my family and I to be a part of it and this whole philosophy of winning and being a family, it really is astonishing to feel this comfortable this soon. And all the while being in a hard-working, dedicated, high-expected group, it's good."
Turco's twin girls and two-year-old son are already decked out in Blackhawks gear. The girls learned the Cubs' song this week, although they have yet to master "Chelsea Dagger", the song that follows Chicago goals and wins.
"Not yet. They just need the chorus," Turco said.
Chicago coach Joel Quenneville has already begun to think of ways to incorporate Turco's rare puck-handling skills into his speedy Blackhawks attack.
"Several touches and it's almost like I'm interested to see how we can take advantage of that in our team game," Quenneville said Saturday before the Turco and the Blackhawks were to play in their first home preseason game. "I'm sure it's going to evolve. Anything we can do in a positive fashion with his puck-movement game [will] complement our team game in a lot of ways and I think we can explore that."
The Blackhawks aren't asking Turco to figure out cold fusion here in Chicago. He's joining a team that should be a contender once again despite radical offseason changes to its Cup-winning lineup. Turco's job is to make sure that happens by stopping pucks.
The past two seasons in Dallas were disappointing for Turco and the Stars as they missed the playoffs and saw new management and coaching installed in the midst of some unpleasant dressing-room situations (the ill-fated Sean Avery experiment comes to mind), but they shouldn't cloud the positives.
In 2008, Turco was exceptional in leading Dallas to upsets of defending Cup champion Anaheim and San Jose in the playoffs before the Stars fell to eventual champion Detroit. Turco, whose playoff performances had been criticized in the past, turned in a sparkling .922 save percentage and 2.08 goals-against average in 18 postseason games. Those are numbers and memories that have gone a long way to making Turco's transition a smooth one.
Players are already talking about the comfort of having a player like Turco, a three-time All-Star and member of Canada's 2006 Olympic team, in their room as they prepare to defend their championship.
"We welcome his leadership here. I think he'll be a real nice fit for our guys," Quenneville said. "I think he's done a nice job in his transition and I foresee it being a benefit for everybody here."
Still, Turco knows that all of this good will is predicated on what he brings to the table once the games start to count in a couple of weeks and his ability to keep the team pointed in the right direction, toward the playoffs and beyond. Only then will his leadership skills and experience be truly valuable.
"At the end of the day, to be a good leader, I have to be in great shape and healthy and stopping the puck and confident, and those things can't get there without some due time and due diligence on my part," Turco said. "If that happens, then you can be leaned on a little bit easier when you're standing tall."