Three-time U.S. figure skating national champion and world bronze medalist Johnny Weir posed for the cover of his new autobiography "Welcome to My World" with one stiletto-clad foot appearing to hold up a huge disco ball. Yet despite that unconventional image, the book follows the familiar arc of many an athlete's life: a driven child with a loving, supportive family; a conflicted adolescent who grows into an accomplished performer; an imperfect adult who stumbles at inopportune times and tries to savor his experience no matter where he finishes. By turns thoughtful, snarky, giddy and caustic, the book also serves as the vehicle for Weir to confirm that he is gay -- a subject he had long refused to address because he considered it private and unrelated to his athletic career.
Weir, who is not skating competitively this season, sat down with ESPN.com's Bonnie D. Ford on Monday to talk about his book and his future in the sport. The following are excerpts from that conversation.
Ford: Discussing your sexual orientation publicly was something you resisted for a long time. You chose to deal with it candidly in this book. Now, the first talking point in stories about the book is, "He's come out.''
[+] Enlarge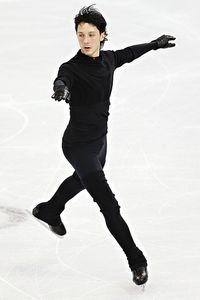 Matthew Stockman/Getty Images
"It's of very little importance to me that I was born gay. ... So of course it's a bit disappointing that that's the first and sometimes the only thing people will focus on," says Johnny Weir.
Weir: It's of very little importance to me that I was born gay. It doesn't make me a better athlete, it doesn't make me a stronger person, it doesn't really do anything to enhance my life. It's just something I was born with, the same as green eyes. So of course it's a bit disappointing that that's the first and sometimes the only thing people will focus on. Even if it's just in my head, I live in a generation where it doesn't matter: "Show us who you are individually, what are your strengths, what can you bring to the table?" I'm a two-time Olympic athlete. I'm an author now, I'm a recording artist, I'm a performer, I'm accepted all over the world. I don't throw it in anyone's face that I'm gay. There were lots of gay websites that had an issue with me quote-unquote coming out and doing it "too late," and people are trying to make it into a big news story when really, it's not news at all. I've always been exactly the same.
Ford: You allude to hypocrisy within the sport, that there are judges and officials who are gay but don't want skaters to be out. Is figure skating abiding by "Don't ask, don't tell?"
Weir: Figure skating's reputation is something that's very important to everyone involved in the sport. It's a very small world of people and you want the best representative to kind of cross over and sell it to the rest of the world. It's a very old, traditional sport. Statistically, I'd say there are about as many gay figure skaters as there are gay football players. The majority are straight. There are just those few exceptions and those are the ones who have gotten picked on and followed over the years. I think it's much easier to sell to the masses, a burly strong male athlete that wants a wife and kids and drives trucks and gets dirty. That's maybe more easily marketable. That's a bit sad but that's what the world has come down to. … I wish that the federation and people from skating would learn from the example I set, because I've never been anything but myself, I've never listened to anybody when they told me, "You need to butch it up, you need to not be so balletic, you need not to work with Russians because they make you too pretty." And while I may not be the Olympic champion for many of those reasons, I couldn't be happier with what I've already done in figure skating and hopefully will continue to do. I've got the respect of so many people.
Ford: It's a subjectively judged sport. You knew that going into it. Did you ever wish you were in a sport where you were just judged on how fast you got from Point A to Point B?
Weir: I never ever wanted to change my sport. … Figure skating was my outlet, it was my breath, it was how I could live and transmit everything I was feeling and everything I had worked for and given up and all these sacrifices I'd made throughout the years. It was how I could make them all worth it. That one command performance when the entire audience is standing, you've got goose bumps in the middle of the ice looking at all these people who appreciate what you've done. Vancouver this year was where I felt that more than ever in my career. The scores were booed, the public was outraged at what scores I got. Whether I moved people to throw punches or cry, I did that through my art and what I do. I would never take that experience away to race against a speedometer. Or play on a team.
Ford: With your affinity for all things Russian and the next Winter Olympics being held in Sochi, is it feasible or realistic to think you could compete there?
Weir: It's absolutely feasible for me to think about competing in Sochi. I started skating so late -- I was 12 -- that even though I'm older than a lot of the competitors, my body is younger. So I have that advantage. Do I think I could qualify for the United States to compete in Sochi? I'm not sure, because I know how our federation works and I know that they'll want to promote the younger skaters and they don't always love somebody coming back and trying to steal one of the spots again. I've been kind of under-the-radar exploring many different options on how I could get myself to Sochi, if I could work that hard again, if my mind could function that way again. You give up every aspect of your life aside from figure skating. If I could have that kind of life and discipline again [and] compete in a third Olympics, and to have it in Russia where in many ways I would have sort of a hero's welcome, it might be worth it.
Ford: You were very honest in the book about the junctures in your career where you let yourself down. Any regrets?
Weir: Absolutely no regrets in my life. … Every time that I've fallen or every time I haven't worked hard enough or I missed an opportunity because I was stupid and young, I'm strong enough now to admit that I don't accept that and I want to be stronger than that. I would never take that back because that's all a part of what made me me. There's a lot in the book about, for lack of a better word, me [expletive] myself over and letting things fall through the cracks because I wasn't mentally prepared to take them on. At 12, I was skating. At 16, I was already a junior world champion. I had no learning curve. A lot of people have the luxury of starting at 2, 3, 4 years old, they go to these little competitions, they learn how to compete in front of people. Within five years of my learning to skate, I was an alternate for the Olympic Games. I learned how to compete and skate in front of the entire world and that's a lot of pressure. When you think about things in those terms, it makes it a little easier to understand why I publicly messed up so many times.
Ford: You said about your rival Evan Lysacek that he became an Olympic champion because "he worked very hard, as I did, and played by the rules, as I did not.''
Weir: While in figure skating it was a mistake for me not to play by the rules, not to play nice with everyone I possibly could and to be very clean and very P.C., while that was a mistake, it's not a regret. I have gained so much by being myself and doing things on my own terms, in my own way.