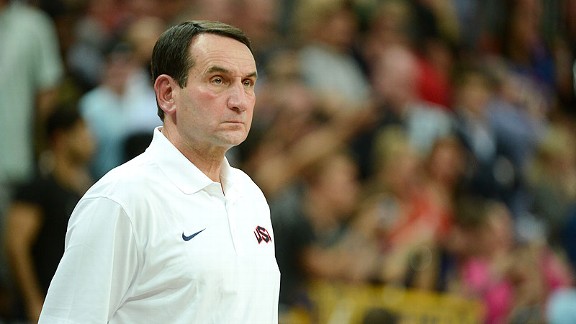 US Presswire
Mike Krzyzewski gave Team USA Wednesday off, but not out of anger after Tuesday's mass-subbing.
LONDON -- It will go down as the cushiest 72 hours of Team USA's month in Europe.
It began with Tuesday night's un-lose-able game against a spirited but severely limited Tunisia. A rare practice-free day off followed Wednesday. And Thursday night will bring a date with a Nigeria squad that isn't expected to keep things much closer than Tunisia did, even after its storybook run in Olympic qualifying.
Yet things get significantly tougher from there for the Americans, with games against Lithuania and Argentina to complete pool play before the knockout rounds begin with next week's quarterfinals. So Wednesday was their only opening for a break, in coach Mike Krzyzewski's estimation, as it fell between the two most favorable games on the schedule since this group's first warmup game at home July 12 in Las Vegas against the weary Dominican Republic.
It will likely be the last taste of relaxation his team gets.
"We're not here to see London Bridge," Coach K said.
Of course, Krzyzewski has also been looking for openings to get in-game rest for his big guns now that they've played seven games in three countries over the past 21 days. Foul trouble has been somewhat of a factor in Kobe Bryant's case, but the Los Angeles Lakers guard logged just nine minutes in the Tunisia game and has taken 11 shots in a combined 21 minutes in Team USA's two Olympic wins so far.
"I get plenty of shots during the regular season," Bryant said, insisting that he's fine with holding back early to keep gas in the tank for the one-and-done games to come.
"I don't need shots now," Kobe continued. "My arm needs some time off."
LeBron James, meanwhile, provided just five points in 19 minutes in Tuesday night's rout, giving the NBA's reigning MVP back-to-back games in single digits scoring-wise after LeBron scored in double digits in every game he played at the Beijing Olympics in 2008. With just 10 shot attempts in the two pool-play games so far, James is eighth on a 12-man roster in field-goal attempts.
Krzyzewski has tried in vain to convince the media pack traveling abroad with the Americans that he wasn't trying to send any messages to his starters when he subbed out all five en masse late in the first quarter -- with Tunisia holding a shocking 13-12 lead at that point -- or when the second five (Carmelo Anthony, Andre Iguodala, Kevin Love, Russell Westbrook and Deron Williams) were granted the opportunity to start the second half.
"We've done that before," Coach K said. "It wasn't like I was angry or anything like that."
So, no, Team USA was never in danger of having Wednesday's practice uncanceled, no matter how flatly it started Tuesday night's encounter with the only team in the tournament with zero NBA players on its roster. And in the end, with that 47-point victory margin, Team USA fell just two points shy of matching its best win in Olympic play in 2008, when it smashed Dirk Nowitzki's Germany by 49 points.
Yet you shouldn't expect it to be that lopsided against the Nigerians, who, unlike Tunisia, can at least trot out some recognizable names in its first-ever visit to the Olympic basketball tournament, starting with New Orleans Hornets forward Al-Farouq Aminu and another former top-10 pick in Ike Diogu. After Nigeria's recent wins over Greece, Lithuania and the Dominican Republic in qualifying, it seems safe to say that the Dream Team's record 68-point win over Angola will not be challenged in 2012.
"We're not coming out here trying to win by 100 points," Krzyzewski said.
He'd surely settle for better shot selection and some early 3-point makes, after Team USA combined to shoot 0-for-14 from deep in the first quarter in its wins over France and Tunisia.