After watching the film of his team's 55-21 defeat to Stanford, USC coach Pete Carroll came to a fairly simple conclusion.
Stanford imposed its will upon the Trojans.
"We allowed Stanford to run the plays they wanted to run and we didn't knock them out of those," he said. "Normally, we try to keep people out of doing their favorite stuff. That didn't get done. We had to adjust more than we thought we would. We underestimated them. We thought we could get it done and it didn't happen."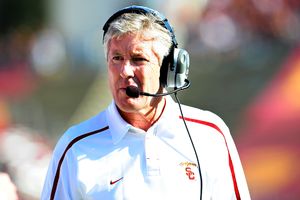 Gary A. Vasquez/US Presswire
USC coach Pete Carroll is seeing the divide between the Trojans and the rest of the Pac-10 close.Basically: The Trojans thought their guys could win one-on-one battles, so they didn't overcompensate to meet Stanford's power running game. They were wrong.
Carroll's take fit in with a theme during the Pac-10 teleconference. Each of the other nine coaches were asked if the perceived talent gap between USC and the rest of the conference had closed and, to a man, each said, "Yes."
"I think people have had to rise up," Oregon State coach Mike Riley said before concluding. "But I think it's real."
It is. USC ranks in the middle of the Pac-10 in most statistical categories.
In four of its last five games, its once dominant defense has surrendered 27, 36, 47 and 55 points. The offense ranks seventh in the conference in passing and has been out of sync the past three games, when it's averaged just 17.7 points per game.
And, by the way, special teams haven't been terribly special, either.
Injuries have been a big issue. Thirteen starters have missed at least one game, and that doesn't include the season-ending injury to Stafon Johnson.
Still, at this point it's fair to say USC has moved back and the conference pack has moved up.
The question now is how do the Trojans react to the unexplored territory of not ranking among the Pac-10's nor the nation's elite?
"National championship? Rose Bowl? No? OK. What's next for us to fight for?" safety Taylor Mays said. "If we don't fight back from this, and we keep going downhill, that's when you really get upset."
If USC wins its next two games -- UCLA and Arizona, both at home -- it still could end up in the Holiday Bowl. Even if the Trojans ended up tied with Stanford, the odds are the Holiday Bowl would pick them to boost television ratings.
And if the Trojans prevailed, a 10-3 finish would ease some of the sting of a disappointing season. It might even be enough to push them back into the top-10.
A strong finish and some offseason momentum also would increase the odds they'd again be the preseason conference favorite in 2010.
And yet.
Based on what's transpired since the fourth quarter of the game at Notre Dame, it certainly seems reasonable to doubt whether the Trojans will win their final three games and generate that positive momentum.
"The first thing is you have to get to the truth of what happened and everybody is clear about that," Carroll said.
That starts with coaching. Perhaps Oregon and Stanford have comparable talent to USC, but does anyone really believe they are a combined 102-41 better than the Trojans?
Quarterback Matt Barkley was a better quarterback five weeks ago. The linebacker play also has regressed. A talented secondary has just six interceptions. The offensive line may produce a heap of NFL draft choices, but it's hardly been dominant. The offense can't convert on third down. The defense doesn't force turnovers. The Trojans commit a lot of penalties.
More than a few USC insiders acted like the departures of offensive coordinator Steve Sarkisian and defensive coordinator Nick Holt for Washington might offer a chance for a schematic upgrade. Who'd assert that now? Seem to recall the same being said -- nudge, nudge -- when Norm Chow "chose" to leave.
Carroll may need to take a serious and objective look at his staff. Is everyone getting the most out of his players? And Carroll may need to do some self-evaluation.
Or: Maybe this is just a blip. Maybe what's extraordinary is that it's taken this long for USC to be ordinary.
Would you be shocked if, a year from now, this space is filled with calibrations of various scenarios for USC to play for the national title? Of course you wouldn't.
"We'll bounce back in a positive direction," Carroll said.
We'll see.
But this column from SEC country recalls an interesting parallel that also occurred to me: In 2001, when Florida State's run of 14 consecutive 10-win seasons ended with an 8-4 finish, no one -- no one -- thought the Seminoles would disappear from the national title discussion.
They did.
So there's really one position to have here, Trojans fans.
There no reason to overreact to the sudden downturn. But it's also foolish to act like nothing is amiss.