Brian Price was flipping through the TV channels the other day when something caught the UCLA defensive tackle's eye. It made him mad.
It was a USC safety Taylor Mays on the news.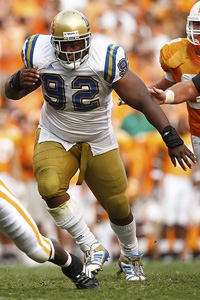 Joe Robbins/Getty Images
UCLA defensive tackle Brian Price's seven sacks rank third in the conference."They had a bonfire I guess and he was saying that just because they lost a couple of games that they're still 'SC and we're still UCLA so they're going to beat us," Price said. "Something like that. Something disrespectful. I found it funny, but we're going to use it to our advantage."
Price paused.
"You can't talk trash after getting dominated by Stanford and Oregon like that," he said.
Price is a junior and an All-American candidate with a big future that likely starts this spring when opts to enter the NFL draft a year early. He leads the Pac-10 with 20.5 tackles for a loss. Despite being an interior defensive lineman who often commands two blockers, he's got seven sacks, which ranks third in the conference.
But Price seems firmly focused on the present, and the present is all about the short drive across LA to USC on Saturday.
The 300 pounder hails from South Central Los Angeles. He knows the rivalry. He does not like USC. He makes that clear. He did not like the Trojans when he arrived at UCLA. He likes them less today.
"As the years go by, you grow to dislike them even more and more," he said. "They're so cocky and arrogant."
But probably not as cocky and arrogant as the previous seven seasons. As Price noted, a 27-point loss at Oregon and a 34-point loss at home to Stanford tend to take the starch out of a team that has ranked among the nation's elite every season since 2002.
Yes, this year feels different, USC guard Jeff Byers said.
"We have to prove ourselves to everybody -- we've stumbled," the Trojans sixth-year senior said. "We have a vision of what we're supposed to be. Who we are. We haven't portrayed that to ourselves or anyone else."
USC has won nine of 10 in the rivalry. Last year, it held the Bruins to 157 total yards in a 28-7 whipping.
Yet it is the Bruins who enter with a three-game winning streak and momentum. USC is coming off a bye week after losing two of three.
"This is the turning point of the UCLA program, right now," Price said. "Everybody can feel it."
UCLA is trying to boosts its record to 7-5, which will bolster its chances to earn an at-large berth to a bowl game. USC (7-3, 4-3), ranked 20th in the BCS standings, can still earn an invitation the Holiday Bowl and finish with 10 wins.
So there is plenty to play for.
"It doesn't matter what we've done the past 10 games," Byers said. "All that matters is what we do this weekend."
Byers said the bye week went well and was very intense with lots of hitting. The Trojans used to own November -- they were undefeated in the month under coach Pete Carroll until Stanford bludgeoned them -- but now they are looking for answers 10 games into the season, which means late-season practices take on a different character.
"There's been a certain intensity that's a response to the urgency that is at hand," Carroll said. "We've stepped on the pedal here a little bit."
The most interesting matchup is USC suddenly porous defense vs. UCLA's improving offense. The schedule could be partially blamed for both trends, and USC figures to be far healthier after a week off. Still, if the Bruins can support redshirt freshman quarterback Kevin Prince with a solid running game, this one might get interesting.
Despite the recent struggles, UCLA coach Rick Neuheisel was quick to assert that the Trojans remain as physically talented as any team in the country.
"They aren't impostors wearing that uniform," he said. "We will have to play our best to stay close and hopefully get the game into the fourth quarter."
That's a big reason why Price, while willing to talk about how much USC annoys him, isn't willing to trash talk the Trojans as a program.
"They're still dangerous," he said. "We can't take them lightly because they lost a couple of games. They're not the same as they were a couple of years ago, but they are still 'SC."