With potential conference expansion again all the rage, first-year Pac-10 commissioner Larry Scott knew the question would be coming.
What about Pac-10 expansion?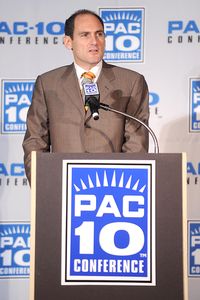 Kirby Lee/Image of Sport/US Presswire
Pac-10 conference commissioner Larry Scott said he is considering expansion... again."Expansion is something we will take a look at," Scott said Wednesday.
For expansion enthusiasts that will sound like a more open-minded approach than long-time commissioner Tom Hansen, whom Scott replaced over the summer.
But don't make plans for a Pac-10 Championship Game just yet.
Yes, expansion is something Scott will look at with a "fresh set of eyes" -- his phrase -- and the timing makes sense because the conference television contracts expire after the 2011-12 academic year.
But this is nothing new -- he said the same in July before Pac-10 media day -- and the same reasoning and sentiments that school and conference administrators have used to resist calls for expansion in the past remain entrenched, so nothing is imminent.
"There's a pretty high hurdle for us, academically, athletically, geographically," Scott said. "We're hard-pressed to really see how you improve upon the structure of the Pac-10 as it is with five sets of natural rivals in four states."
Expansion is a subject that has repeatedly come up since the mid-90s when the conference courted Texas and Colorado before they joined the new Big 12, but the Big Ten's public declaration this week that it is considering adding a member to reach the 12-program threshold necessary to split into divisions and hold a championship game, makes the issue relevant again.
If the the Big Ten joins the Big 12, ACC and SEC as a 12-team conference that would leave the Pac-10 and eight-team Big East looking, well, smaller.
Scott said that bigger doesn't necessarily mean better, particularly in terms of revenue per program. If adding teams means a potentially smaller slice of the conference revenue pie, it will be hard to sell expansion to the membership.
The first issue is the small pool of potential candidates. The teams most often mentioned -- mostly by fans -- are Utah, BYU, Boise State, San Diego State, Colorado, Fresno State, Nevada, UNLV and TCU.
A couple of those are intriguing possibilities, but a couple wouldn't even be considered.
Programs need to be an academic and athletic match. That means admission standards and research accreditation are issues. On the athletic side, it's not just about football. How strong is the entire athletic department? Recall the Pac-10 is the "Conference of Champions" and Olympic and women's sports are part of that foundation.
Then there's the biggest issue: Money. If the Pac-10 were to expand, it wants that expansion to mean more of it. There's widespread concern that a number of the potential candidates don't come from markets that will increase revenue.
Bringing in Utah and Colorado might be a winner (Salt Lake City and Denver markets), and at least one Pac-10 athletic director said that's the most likely scenario. Of course, prying Colorado away from the Big 12 might not be easy.
TCU, perhaps? There are issues -- distance being an obvious one -- but Pac-10 coaches would salivate over a bigger potential recruiting footprint in Texas.
What Scott has or will shortly realize: There are no slam-dunk solutions that will make everyone cheer.
There will be enthusiasts for expansion and there will be skeptics. What's clear is there should be a renewed sense of urgency over the matter because Scott expects the new TV deals to be long-term contracts.
That might mean expansion or not by 2012.
"The most logical time for that is when you're going to sell your media rights," Scott said. "This is essentially the shop window, so this would be a very natural time to consider it, if we are going to consider it."