ESPN's Chris Mortensen is reporting mutual interest between USC coach Pete Carroll and the Seattle Seahawks, which fired coach Jim Mora Friday.
This paragraph is telling:
Carroll did not return messages, but a league source said Carroll is interested in the job and is trying to persuade USC offensive coordinator Jeremy Bates to join him in Seattle -- as opposed to Bates pursuing the same position with the Chicago Bears.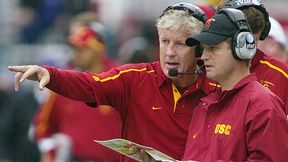 Jesse Beals/Icon SMI
Pete Carroll, shown here with offensive coordinator Jeremy Bates, has entered another round of NFL coaching speculation.
Why would Carroll leave USC for Seattle, a franchise that has been sagging since a Super Bowl appearance in 2006?
Couple of reasons.
For one, money.
The Seahawks are rich. Their owner, billionaire Paul Allen, is one of the richest men in the world. If the Seahawks covet Carroll, they can open the bank vault for him, which means they can easily beat the $4.4 million Carroll makes annually at USC.
Moreover, Carroll may be ready to exit USC.
You may have heard this, but USC didn't have a good season, based on its recent stratospheric standards. The Trojans finished 9-4 and out of the top 10 for the first time since 2002. For the first time since 2003, USC won't be the Pac-10's preseason favorite next fall.
Even more important: The NCAA's case against Reggie Bush might be coming to a head. With Bush losing his attempt to force confidential arbitration to settle a lawsuit filed by a would-be sports agent who allegedly gave Bush cash and gifts while he played for USC, testimony for the case will be made public. Testimony that the NCAA could use to sanction the football program.
So maybe the timing is right?
Also, it's always been one of Carroll's sore spots that folks believe he was a failure in the NFL. When a reporter asks him why he's been so successful in college when he wasn't as an NFL head coach, he always quibbles with the premise. He was 33-31 in four seasons -- one with the New York Jets and three with the New England Patriots -- and he made the playoffs twice, he'll tell you.
The general feeling long has been that Carroll wanted to eventually re-write his NFL legacy.
On the other hand, he's become entrenched at USC and in Southern California. His charity work, particularly A Better LA, is obviously regionally specific. As a personality, he's much more So-Cal than Northwest.
USC fans may be rolling their eyes at all of this. It's not like this hasn't been the story just about every post-season since 2003.
And Carroll has more than once said he doesn't want to go back to the NFL, consider this quote given to the Miami Herald in 2005 when asked if he wanted another crack at the NFL.
"No," he says. 'I'm a professional college coach. I think the NFL's a wonderful place, man. I love it. The competition at the top you can possibly reach, all the resources and backing. It was awesome to be in that arena. But this is an extraordinary fit for me. I couldn't be happier where I am. I'm having so much fun.''
By the way, this is an excellent source for all the different NFL coaching rumors and stories that have dogged Carroll during his USC career.
It also is fair to ask the question from another perspective: Why would an NFL team want Carroll?
The root of Carroll's success at USC is superior recruiting. That's about charm and salesmanship, two skills with almost zero value in the NFL.
While Carroll has always been a respected Xs and Os guy, his defense floundered the second half of the 2009 season and he seemed to get outflanked by opposing offensive coaches. Moreover, it's reasonable to question a number of his assistant coach hires, including offensive coordinator Jeremy Bates, who seemed like a bad fit with the Trojans.
To go back the NFL, Carroll likely will demand a fairly substantial level of control over staffing and personnel decisions.
So a franchise would have to surrender a lot of money and a lot of control. Recall that the Seahawks once yanked that sort of control away from Mike Holmgren.
But the undercurrent feels stronger here than in the past, particularly on the Carroll side of things. Again, Carroll might feel this is his best opportunity to land a good NFL head coach job.
So let this one play out.
And, if Carroll goes, let's entertain the next topic: Who would replace him at USC?
Oregon State's Mike Riley? TCU's Gary Patterson? Stanford's Jim Harbaugh? An NFL guy?
We shall see.