Oregon coach Chip Kelly's first year leading the Ducks should be viewed as the rough equivalent of a coaching dog year, so let's go ahead and call Kelly a seven-year veteran.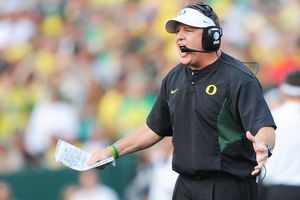 Christopher Hanewinckel-US PRESSWIRE
Oregon coach Chip Kelly's Ducks need to fall in line before the season starts.Talk about extremes of good and bad. Post-game punches, a Pac-10 championship, a Rose Bowl and a stack of police reports.
Talk about packing a career of thrills and embarrassments into a calender year.
The latest -- running back LaMichael James' arrest on domestic violence charges -- extends a recent streak of disturbing off-field incidents.
A couple of Ducks kickers were involved in a major brawl on Jan. 24. One, Mike Bowlin, left the team this week. The other, Rob Beard, was knocked unconscious in the melee, required serious facial surgery and was charged with misdemeanor assault. A walk-on defensive end, Matt Simms, previously was kicked off the team after Eugene police cited him for misdemeanor assault for allegedly retaliating against someone from the brawl.
And, of course, there are rumors that more troubles could be ahead for the Ducks.
This isn't boys-will-be boys stuff. Each off-field incident, based on available information, included serious allegations. The sort of stuff that gets folks put in jail, not to mention kicked out of school.
So it's only a sidebar that poor judgement by Ducks players could potentially ruin a 2010 season that holds such promise.
That was the salve that was supposed to heal the wound of an upset loss to Ohio State in the Rose Bowl: Oregon should be even better next year.
Ten starters were scheduled to return from one of 2009's best offenses. Sure, there were questions on defense, but not enough to prevent most prognosticators from ranking the Ducks in the 2010 preseason top-10.
The Ducks not only were projected as Pac-10 favorites, they were viewed as darkhorse national title contenders.
They still might be. But there is now the ominous prospect, due to these off-field incidents, that high hopes could shrivel up and be replaced by worrisome upheaval and controversy.
Not to mention that these young men are putting their futures at risk.
So how does this fall to Kelly?
Here's a guess that Kelly delivered a stern message about personal conduct in a team meeting in late-January. That message, however, may not have sunk in, at least based on the allegations against James.
One of the tough things about being a college coach is you are held accountable for things which you have little to no control over. But that's part of the job. Guys get paid very well to win and run a clean program, and the buck ultimately stops on the coach's desk.
Here's another guess. Kelly, now a wizened coaching veteran, will again deliver a stern message to his team. This one may go up to 11 on the volume, too.
Oregon fans surely will hope this time the message resonates as if it were coming from the Oval Office.