A pick-six interception is just about the best thing a defensive player can do. Some players, however, never experience one over their entire career.
UCLA's Akeem Ayers got two of them last year. But that's not even the best part.
Ayers, an outside linebacker, wasn't in coverage when he made the plays. He produced his two pick-sixes while rushing the passer. Yes, he reached up and snagged balls that were intended to sail over his head.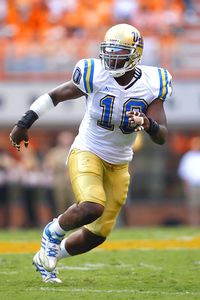 Joe Robbins/Getty Images
UCLA's Akeem Ayers has potential to be an all-conference player next season.
Against Oregon, he was right in quarterback Nate Costa's face when the ball was released from the back of the endzone. Ayers jumped, grabbed the ball and then showed the presence of mind -- and nimbleness -- to drop both feet in bounds before he fell out of the back of the endzone.
Then, in the EagleBank Bowl against Temple, he added a new element, falling on his face as he charged out of his stance before leaping into the errant pass and jogging four yards for the TD.
While most would rate the Oregon play higher in degree of difficulty, Ayers prefers highlight No. 2.
"Just because of the whole situation, being down [UCLA trailed 21-20 at the time] and being in a bowl game," the rising junior explained.
Those are notable sentiments: Ayers cares more about the team's situation than his own spectacularness. That's the sort of team-first mentality the Bruins will need if they expect to take another step forward in year three under Rick Neuheisel.
While just about every Pac-10 team must replace key defensive players this spring, UCLA perhaps takes the hardest hits of all: It loses six starters, including three first-team All-Pac-10 players, including conference Defensive Player of the Year, defensive tackle Brian Price.
Of course, Ayers doesn't see it that way.
"We have a lot of young talent on defense," he said. "We lack playing experience, but as far as talent we have players who will step up in spring ball and fill the gaps."
Ayers ticks off linebacker sophomore Patrick Larimore, a candidate to replace Reggie Carter at middle linebacker, and sophomore defensive lineman Damien Holmes as two examples.
He could toss himself into the mix, though he's no newbie. Ayers ranked third on the Bruins in 2009 with 75 tackles, including 14.5 tackles for a loss, which ranked second on the team and fifth in the conference. Playmaking? He recorded six sacks, grabbed four interceptions, forced four fumbles and recovered two.
If you're looking for a defender to rise from mostly unknown to first-team All-Conference in 2010, Ayers might be your man.
But he's still got areas to improve. For all his instincts and athletic ability, the 6-foot-4, 252-pound Ayers has a tendency to freelance outside of his assignments in the specific defensive scheme, something that used to infuriate Carter.
"If the guy is not near the play or ball, Akeem doesn't always want to be bothered with it," Carter told the LA Times last year. "That's understandable when you're young. As you get older, you realize you have to work in the scheme. He could hurt us one day."
Ayers, who saw Carter as a mentor on and off the field, is as aware of this as anyone. When asked what he needs to do to ascend from young talent to star, he said, "It's not so much physical. It's more the mental aspect, getting the defense down pat."
Despite the new starters on defense, that may not be the side of the ball that most worries Bruins fans. The offense ranked ninth in the Pac-10 in scoring a year ago (22 points per game), and that's got to improve if the goal is to win more than seven games and to push into the top half of the conference standings.
Ayers said he's seen sophomore quarterback Kevin Prince working hard and taking a leadership role this offseason. As for the Bruins offensive line, which has been among the worst in the conference for the past three seasons, Ayers said he expects dramatic improvement.
"That's probably the least of my worries this season," he said.
Despite replacing several key starters, Ayers believes the Bruins are moving up in the Pac-10 and closing in on rival USC for one important reason.
"We have players who can play now," he said.