LOS ANGELES -- Most programs have images. Not so long ago, a mention of UCLA to college football fans inspired images of high-flying offenses with quarterbacks such as Troy Aikman or Cade McNown, offensive linemen such as Jonathan Ogden and skill players like J.J. Stokes and DeShaun Foster.
These days? Not so much. UCLA hasn't had a potent offense since 2005.
Most coaches have images. Bruins coach Rick Neuheisel and offensive coordinator Norm Chow built their careers on offensive prowess, particularly with developing quarterbacks.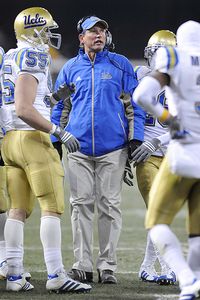 Mark Goldman/Icon SMI
UCLA coach Rick Neuheisel expects to be in the top half of the Pac-10 next season.When Neuheisel and Chow arrived in Westwood two years ago after Karl Dorrell was fired, their charge was not only to recharge a stagnant program that had yielded Southern California to USC but also to reignite the offensive fireworks.
Bruins fans notoriously love offense. Former coach Bob Toledo once remarked that winning with flashy offense was nearly as important as winning period among the Bruins faithful.
The going, suffice it to say, has been slow. The Bruins have ranked no better than eighth in rushing, scoring or total offense over the past two seasons.
So, are the Bruins poised for a breakthrough in 2010, Year Three of Neuheisel-Chow?
"I have no idea, but we have to be better or you'll be talking to somebody else next year," Chow quipped.
Say this for the veteran coaches: The old dogs are willing to try new tricks. UCLA is using a variation of Nevada's "pistol" offense -- Neuheisel called it "the revolver" because "it's going to be more loaded," he joked -- during spring practices. That means lining up in an abbreviated shotgun formation with a single running back and using some spread-option elements.
The idea is that forcing a defense to respect -- and assign responsibility for -- a potential running quarterback means an offense operates 11-on-11 vs. a defense rather than 10-on-11, as is the case in a pro-style offense when the quarterback only hands off or passes from the pocket.
Understand: UCLA quarterback Kevin Prince doesn't have to transform into Oregon's Jeremiah Masoli (insert snarky quip here) or Washington's Jake Locker this spring. The very fact that Prince will run the ball a handful of times a game means a defense must account for him on every play, which means Prince can operate as a pseudo-blocker even without the ball -- and without taking on a 240-pound linebacker.
By the way, Prince is hardly an unathletic clod being asked to run the option. For one, he ran a similar offense in high school. And he weighs 230 pounds and runs a 4.53 40-yard dash.
"It's opening up the passing game a lot and it's really fun to run. I'm liking it so far. It's an efficient way to do things," Prince said. "I might not have to run that much, but the mere fact that they have to have a guy assigned to me, to respect me as a running threat, I think will open up our offense a lot more."
That said, results have been mixed. After the Bruins second scrimmage, Neuheisel wondered out loud how patient he and Chow could be while Prince and company learned a new scheme: ""There's a lot of moving parts in this stuff. If we're going to be in this stuff and we're going to say that this is who we are and try to get to that point, we've got to be a heck of a lot better at it than this. If we can't get that done in 15 practices, then we have to ask ourselves if it's prudent to stay in it and that's where we are.''
But, whatever the scheme, Neuheisel, Chow and Prince each touched on the most sound reason to believe UCLA's offense will be better this fall: experience.
Start with Prince, who flashed potential as a redshirt freshman during an injury-plagued 2009 season. The hope is he takes the next step and becomes more consistent.
"Kevin has everything you look for," Neuheisel said. "He still needs to grasp how defenses play so he can take advantage. He's running our offense, but he's not ahead enough yet to know exactly where they are vulnerable so we can take less protection time and get the ball to that spot."
Prince should have plenty of help. Receivers Nelson Rosario and Taylor Embree have played well this spring -- said Neuheisel, "I think they are ready to burst onto the scene" -- and there are intriguing youngsters behind them. The pecking order at running back remains unsettled, but there's talent and the incoming recruiting class includes three backs ranked in the ESPNU 150.
But, really, all things hinge on the offensive line, which would have welcomed back all five starters if true freshman left tackle Xavier Su'a-Filo hadn't opted to go on a two-year LDS mission.
The Bruins troubles the past two season can be traced in large part to an inability to consistently run the football, a problem rooted in poor line play.
"I love Karl Dorrell and I've known him a long time but when we got here there were no offensive linemen," Chow said.
Neuheisel has landed three consecutive strong recruiting classes, but he also bemoans the recent lack of elite offensive linemen on the West Coast. Still, he expects the line to improve in 2010. He ticks off nine names he thinks can get it done up front.
"We'll be closer to a good looking group," he said.
The offense probably needs to take a major step forward for another reason: The Bruins lost six starters, including three All-Pac-10 first-teamers, from their defense.
Neuheisel is always optimistic. His mantra in 2008 was "relentless optimism." But his enthusiasm at present suggest he expects the Bruins, one of only two Pac-10 teams that won bowl games in 2009, to push into the top-half of the conference this fall.
"We are within a blink of an eye of being really good," he said. "We're not far from being a hell of a program again."