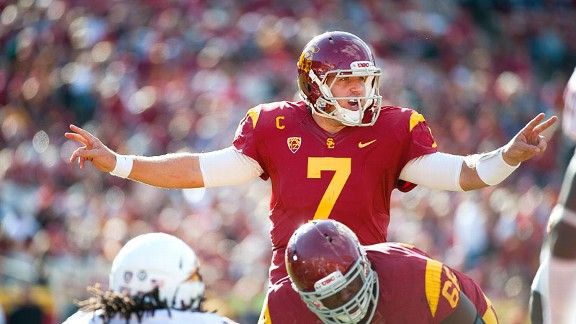 Jonathan Moore/Getty Images
He doesn't have the strongest arm, but Matt Barkley has similar numbers to Andrew Luck and Robert Griffin III when it comes downfield throws.USC Trojans quarterback Matt Barkley was a projected top-five pick if he had entered the 2012 NFL draft. The third-ranked QB in the 2012 draft class behind Andrew Luck and Robert Griffin III, Barkley decided to return for his senior season.
There are several reasons Barkley's draft stock has supposedly dropped: arm strength, lack of athleticism, struggles when pressured. However, what do the numbers say about these perceived deficiencies?
Arm Strength
Since the start of the 2011 season, Barkley threw 24 touchdowns and only two interceptions on passes 20 yards or longer (in 120 attempts). When Barkley missed his receivers on those deep passes, he was four times more likely to overthrow his target than underthrow.
Throws 20+ Yards Downfield
Final Two College Seasons
In fact, Barkley put up comparable numbers to what Luck and Griffin III did on passes of 20 yards or longer in their final two seasons.
And, Barkley's completion percentage actually improved on throws of this distance from 2011 (39.7 percent) to 2012 (42.3).
Athleticism
Barkley may not be able to outrun defenders, but he has shown the ability to throw on the move. When outside the pocket, Barkley completed more than 65 percent of his passes with 23 touchdowns -- including 16 touchdowns on designed rollouts -- and just three interceptions.
Passing Under Pressure
Scouts have pointed to Barkley's struggles with pressure in his face. The numbers show that Barkley consistently has been able to read defenses and hit his hot read when opponents send extra pass rushers. Barkley threw 44 touchdowns and just six interceptions when opposing defenses blitzed.
Additionally, Stats & Information's video tracking data has Barkley completing 41.3 percent of his passes when under duress in 2012, slightly above the average for all quarterbacks tracked (40.5 percent).
Even Barkley admits he tried to do too much in 2012, but USC's offensive struggles went well beyond its quarterback play.
The Trojans' offensive line struggled after the departure of left tackle Matt Kalil to the NFL and the injury to center Khalid Holmes early in the season. Barkley was sacked six more times in 2012 (14) than 2011 despite playing one fewer game.
USC's receivers dropped 27 balls in 2012, including eight on passes of 20 yards or longer. In 2011, USC had just 14 drops, four of which were on deep throws.
Also, USC's running game struggled to gain first downs in key running situations, converting a first down on 11 of 21 third-down rushes with 2 yards or fewer to go. The Trojans' 52.4 third-down conversion percentage in those situations ranked 103rd in FBS.
USC averaged 7.6 rushes per touchdown in the red zone -- only six FBS teams had a lower red zone rushing touchdown percentage last season.