Readers of the New York Times who turned to the sports section this morning were in for quite a surprise.
The front of Thursday's sports section had a headline of either "Welcome To Cooperstown" (the early edition) or "And the Inductees Are ..." (the later edition) with no text beneath it.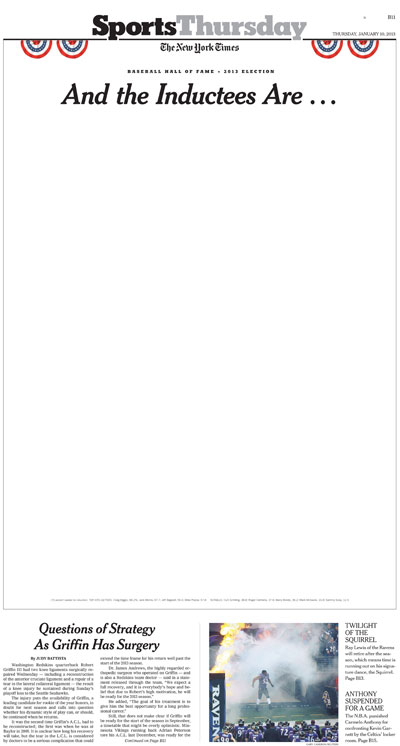 When New York Times business reporter Peter Lattman first tweeted it, I had to direct message him.
Me: "Dude, is that real?"
Lattman: "100 percent. Yes, that's the front page of the sports section."
I asked him who made the call to go blank, an obvious reference to the fact that Baseball Writers' Association of America failed to vote any former player into the Hall of Fame on Wednesday.
He referred me to Joe Sexton, the Times' sports editor. I emailed him.
"Wayne Kamidoi, our boundary-pushing art designer, came up with the idea," he wrote. "And Jay Schreiber, our baseball editor, saw the chance to capture the very old, very dispiriting story of steroids in baseball in a freshly powerful way. Yes, it was not a surprise that Bonds and Clemens didn't make it. But felt like history had spoken. How to convey that to our readers? I think we did it -- a striking, profound emptiness."
The paper did have a front-page story on the significance of the vote, and the sports section had a full page of coverage inside.
Kamidoi added his thoughts on why the cover made sense.
"In what should have been a historic day for Cooperstown, it proved to be an incredibly empty day for baseball," he wrote. "That's why 11.5" by 13" of white space seemed appropriate. What a group the Class of 2013 SHOULD have been -- Clemens, Bonds, Piazza, Sosa. Their numbers and accomplishments say: One of the best classes ever. However, all that has transpired since 2007 when they all decided to retire certainly has tarnished their images and the Hall of Fame as a whole. The big names of the game were appropriately published in very small type -- a mere footnote to baseball history."
Wait, what?
I didn't even notice it. There at the bottom is the vote tally of all the names that didn't get in.
Genius.