Chris from Eugene, Ore., writes, "What's the first thing that went through your head when Metta World Peace dropped James Harden last Sunday?"
That's easy: People's Elbow!
Now let's get to the rest of this week's Junk Mail.
---
The Wizards are awful. We had the most "SportsCenter" Not Top Ten" plays of any team. Is anyone proud to be a Washington fan? I know I'm not.
-- Randy, Washington
You're not alone. These guys make Harry Potter ashamed to call himself a wizard.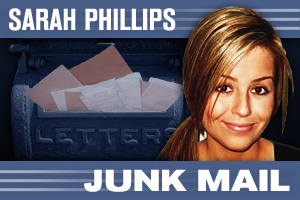 My 8-year-old son is a huge fan of the Cavaliers. He is glued to the TV and watches each of their games, start to finish, regardless of the score. It's like he's a zombie. He now wants season tickets for his birthday. Is something wrong?
-- Renna, Cleveland
Send him for a psychiatric evaluation ASAP. If he also cheers for the Browns, he might have already suffered irreparable psychological damage.
The Bobcats set a new record for lowest winning-percentage this season. I'm tired of Charlotte being bad. Will Charlotte ever be good?
-- Stacy, Charlotte, N.C.
The Bobcats? Not for awhile. But in the meantime, there's always Good Charlotte.

The last time Sacramento was good, the Kings were cheated by referee Tim Donaghy. I just want the Kings to be good again! Is that so much to ask?
-- Scott, Sacramento, Calif.
You should be thankful they're not the Anaheim or Seattle Kings at this point.
[Editor's note: Tim Donaghy didn't work any of the games in the 2002 Western Conference finals against the Lakers. He alleged impropriety by other officials in that series.]
Minnesota has a bright future. Injuries hampered us this season, but things are looking up for the Timberwolves behind power forward Kevin Love. Looking back on the season, what needs to happen in the future for the Wolves to contend?
-- Craig, Minneapolis
Kevin Love needs to tap into his alter ego, Kevin Hate -- the guy who stomped on Luis Scola. The Wolves need some attitude.
Steve Nash is a free agent. Phoenix absolutely needs to hold on to him or ticket sales will plummet. Do you think Nash should come back to the Suns?
-- Jose, Mesa, Ariz.
Steve Nash should give Phoenix the "It's not you; it's me" speech before he winds up married to the Suns for the rest of his career.
We're reaching Stage 5-clinger territory.
Huge Rockets fan here. It feels like we're always one step away from doing something truly great. What do you think is missing?
-- Sharlene, Houston
It's star power. The Rockets are managed in a "Moneyball" type of system, so numbers trump status. But referees can sometimes operate on reputation, and most metrics don't account for this bias.
Until the Rockets sign a big name or two, Houston will have a problem.
With Monta Ellis and Brandon Jennings, Milwaukee is headed in the right direction. We haven't been relevant for awhile though. Is there a simple solution for Milwaukee?
-- Ken, Milwaukee
Yes, increase revenue by moving to Nevada. It might not be a feasible idea, but a relocation would lead to the best team name in NBA history: the Las Vegas Bucks.
Hey, I'm up here in Canada. You guys never write about the Raptors. Do you Americans even remember that we have a team?
-- Franklin, Canada
No.
With the Nets on the move, what's a trade you wish New Jersey would have made last season to secure its future? [Trade for] Dwight Howard? [Trade away] Deron Williams?
-- Michelle, Newark, N.J.
Kris Humphries should have replaced Mike "The Situation" Sorrentino on "Jersey Shore." He would have been a great addition.
I've been a Pistons fan all of my life. It seems like there is no end in sight for our recent misery. What's a Detroit fan to do?
-- Chuck, Detroit
At least you have the Lions.
I bet you never thought you'd hear that.
Golden State went into full-blown tank mode to end the season, in order to protect its lottery pick, so it's hard to tell how effective Mark Jackson was this year. What's the biggest problem for the Warriors right now?
-- Mike, San Francisco
Regardless of coaching style, they still don't defend. Hand down, man down!
You're a Blazers fan. I remember when Portland released "Rise With Us" as its playoff song a couple years ago. It seems so far removed from where we are now. What do you think our new anthem should be?
-- Mickey, Portland, Ore.
"Heads, Shoulders, Knees and Toes."
Submit questions to Sarah Phillips at JunkMailESPN@gmail.com.
You can follow Sarah Phillips on Twitter @SarahPhilli.