Every year when football stops happening, you're suddenly left with only two sports to watch on TV: basketball and one that's not basketball. The non-basketball one is called World Series of Poker, and it airs late at night when everyone awake is probably committing sin.
But did you know that there's actually a third sport happening? It's a Canadian lawn game called hockey, and folks here in the USA have been buzzing about it lately on account of an exciting young hockeymen troupe, or "team," called the Chicago Blackhawks.
The Blackhawks are in the midst of a historic 24-game point streak to start the season, meaning they haven't lost a game in regulation. A professor of mathematics has determined that such a streak can be expected only once every 700 years, which means that the next chance to see something like this will be long after you and your loved ones have died and been buried and been repurposed as fossil fuel by future civilizations.
So start watching, you dummy! But first, learn some basics about the team so that no one accuses you of being the opportunistic fan that you are.
Who are the best guys on the Blackhawks?
Jonathan Toews (pronounced jon-uh-thun) is the team captain, and he is one of the best all-around players on the planet despite the fact that he doesn't look a day over 8½. If you had to throw every player in the garbage but one, Toews would be the guy to keep.
But the player who's getting the most attention right now is Patrick Kane, who in all likelihood has probably done a body shot off your sister. A reformed party boy, he scores lots of goals at opportune times and is a hypnotic stick handler. (Once, during a shootout, he stickhandled for approximately three moon cycles before actually shooting the puck, and though you felt sorry for the stadium employees who had to be away from their families that long, it truly was something to behold.)
Then you have Marian Hossa, who is one of the premium two-way players in the league, but for some reason everybody keeps trying to concuss him.
What city do the Chicago Blackhawks play in?
Tallahassee.
Is their team name racist?
I don't know! Ask a grad student!
But seriously, how good are the Blackhawks?
The second-best team in the league is 10 points behind them right now. To put that into perspective, 10 points is also the difference between the second-place team and the seventh-place team. The Hawks' consistency has been downright scary. Due to the lockout-shortened season, they're essentially taking the ice every other night, and yet even at their most fatigued they still manage to find a way to win.
They must've had an easy schedule up until now, right?
You'd think so. But they spent 10 of their first 12 games on the road and have already played back-to-back games on six occasions. And with exception of the Ducks, they've already vanquished every team in the Western Conference.
Does their coach have any prominent facial hair?
Yes. Coach Joel Quenneville has a robust mustache that unfortunately does not change colors when he gets mad.
Can you draw the mustache?
Not really.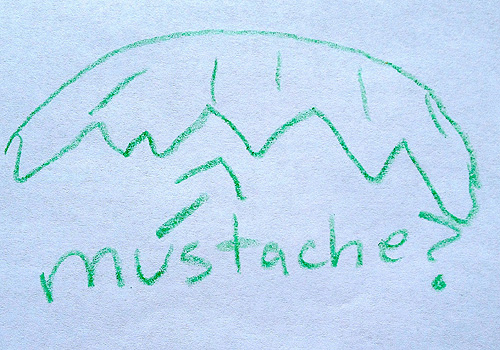 Can you draw The Fonz wearing the mustache?
Actually, yeah.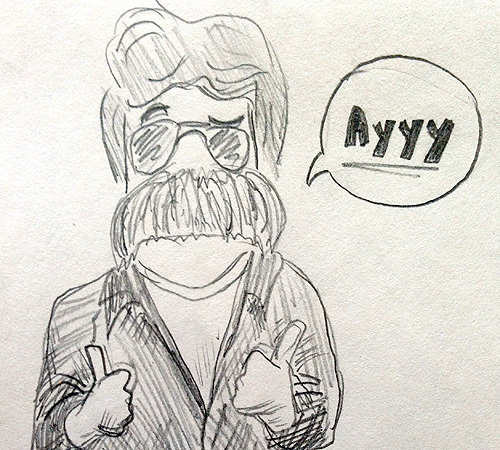 Why are the Blackhawks so dominant all of a sudden?
With the exception of a couple of modest offseason acquisitions, their roster hasn't really changed much since last season. But the chemistry on each of their lines has been phenomenal, and you rarely witness an inefficient shift. The unbridled tenacity of the young guns has propelled the team at crucial moments, especially guys like Andrew Shaw and Brandon Saad, who at times look more like pinballs than hockey players, along with Marcus Kruger, who has been an unexpected menace on the penalty kill. Former Norris Trophy winner Duncan Keith has returned to elite form, but when he and best pal Brent Seabrook need a breather, Swedes Niklas Hjalmarsson and Johnny Oduya have anchored the D with spectacular aplomb.
Actually, let's just say that a genie did it. That's a far easier explanation.
Would any of the players look like villains if they were drawn as Disney characters?
Yep. Michael Frolik, Bryan Bickell and Daniel Carcillo. Frolik has diabolical eyebrows that cannot be trusted, and Bickell looks as if he earnestly delights in pounding on nerds. Carcillo, who actually is a villain, looks like a man who started Animorphing into a rat but got stuck halfway.
What's the goaltending situation like?
Going into the season, the goalie situation was everyone's biggest question mark, with neither Corey Crawford nor backup Ray Emery inspiring much confidence. But both men have been playing in slo-mo "Matrix" mode all season, intercepting pucks with a startling level of poise. Crawford is at or near the top of the league in wins, save percentage and goals-against average, and Emery was named the NHL's "Third Star" for the month of February. But most important, both goalies always try their best, and that matters way more than any silly ol' point streak.
Which player's name sounds the most like a JC Penney lighting fixture collection?
Sheldon Brookbank.
Who are the Blackhawks' biggest rivals?
The Red Wings, the Canucks, the Blues and out-of-control Chevrolets.
Which player is the one who's always lassoing people on the ice?
That's Dwayne from "D2: The Mighty Ducks." He does not play for the Blackhawks.
If you offer a Zamboni ice cubes, will it eat them out of your hand?
Not sure what this has to do with the Blackhawks, but let me check. [Holds hand out to Zamboni, gets entire arm ripped off in its gears]. Nope!
Let's get real: Are the Blackhawks gonna win the Stanley Cup this year?
If they keep winning all of their games through the completion of the postseason, then yes, I'd say that this is a strong possibility. Just to be sure, though, I checked with an online magic 8-ball and I was not met with the same optimism.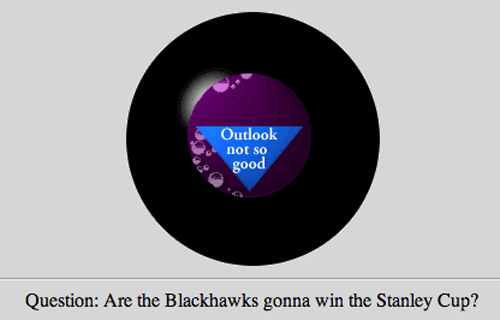 The thing is, hockey championships are won in May and June, which is why the NHL has had nine different Stanley Cup winners in the last nine seasons. You can speculate about it, I guess, but honestly, you're probably just going to jinx things. And why would you want to jinx anybody? Just let fate play out naturally. You're not God.
Wow, thanks for teaching me about the Blackhawks! Can I go back to not caring about hockey now?
Sure man, whatever. But you're missing out.