The New Orleans Hornets' days may be numbered, at least if new owner Tom Benson has his way. Benson has said that he wants to give the team a more appropriate New Orleans-themed name (the Hornets, as you may recall, were originally named when they played in Charlotte), and the early word is that they may be going with Spirit or Angels.
Ugh -- those names are soooo weak. Spirit was already used by a pro basketball team, and Angels is too baseball-associated (maybe they could be the Louisiana Angels of New Orleans?). We can do better than that. So Uni Watch recently invited readers to rename and redesign the team, and about 70 readers gave it their best shot.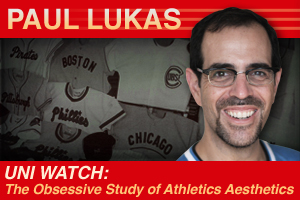 One thing that emerged from the contest is that there's a great design just waiting to be created around a court jester theme. Several readers touched upon this in their logos and/or team names -- those first two mascot characters are spot-on, right? -- but nobody quite put together the full package of a team called the Jesters with jester-inspired uniforms. Tom Benson, if you're reading this, forget about Angels and Spirit and do something jester-oriented!
But while nobody quite hit the Jesters bull's-eye, a bunch of excellent designs were submitted. Here are Uni Watch's favorites (in each case, you can click on the image to see a larger version):
1. New Orleans Krewe, by Brent Becker
This was the closest thing to a Jesters concept. The team name works (a krewe is a group that sponsors a float during Mardi Gras), the colors work, the design is festive -- well done.
• • •
2. New Orleans Steamers, by Paul Scowden
Simple concept, classic execution. Doesn't break any new ground in uniform design, but there's nothing wrong with sticking to the basics when they work so well.
• • •
3. New Orleans Gala, by Bill Smith
Realistically, nobody's going to name his team the Gala, but the juxtaposition of "Nola" and "Gala" is clever, and the confetti side panels totally work. Bonus points for using a distinctive font that's still completely legible.
• • •
4. New Orleans Pelicans, by Chris Giorgio
In a sports world filled with snarling, teeth-gnashing, brow-furrowing animal mascots, there's something appealing about a simple pelican perched on a piling. Plus the script logos are very nice and the unusual color scheme works.
• • •
5. New Orleans Crescents, by Brent Becker
The contest rules specified that it was fine to submit multiple entries, so Uni Watch feels justified in singling out another one of Becker's designs (he actually sent in five of them). The team name is perfect for the Crescent City, nice uniform graphics and kudos to Becker for avoiding the cliché of a crescent moon.
• • •
A few other designs that didn't make the final cut are nonetheless worthy of being mentioned here, including Danny Garrison's New Orleans Crawfish logo (happy animal logos are very popular here at Uni Watch HQ), James MacNeil's New Orleans Strutters (good name, great logo, uniforms need some work), Tim E. O'Brien's New Orleans Krewe (good execution, but why repeat the Hornets' trumpet logo when you can do something completely new?), Troy Gaulden's New Orleans Brass (ditto, but that jester logo is a keeper), Alfonzo Bolden's New Orleans Revelers (another great jester logo, but that number font is a dealbreaker), Tom Bierbaum's New Orleans Corsairs, Leo Strawn Jr.'s New Orleans Rhythm, and John Felders Jr.'s New Orleans Knights.
You can see all the designs that were submitted here. Big thanks to all who participated -- we'll run more design contests soon.
Paul Lukas wishes the NBA's New Orleans team could just be called the Jazz again, but David Stern has made it clear that that's not going to happen. If you liked this column, you'll probably like his daily Uni Watch web site, plus you can follow him on Twitter and Facebook. Want to learn about his Uni Watch Membership Program, be added to his mailing list so you'll always know when a new column has been posted, or just ask him a question? Contact him here.