Opening Day elicits memories of pomp and pageantry and presidential first pitches, but once the games get started, the players themselves occasionally do something pretty memorable as well. We took a look back at the history of Opening Day from 1920 to the present and rounded up information on some of baseball's greatest feats to occur with 161 games remaining on the schedule: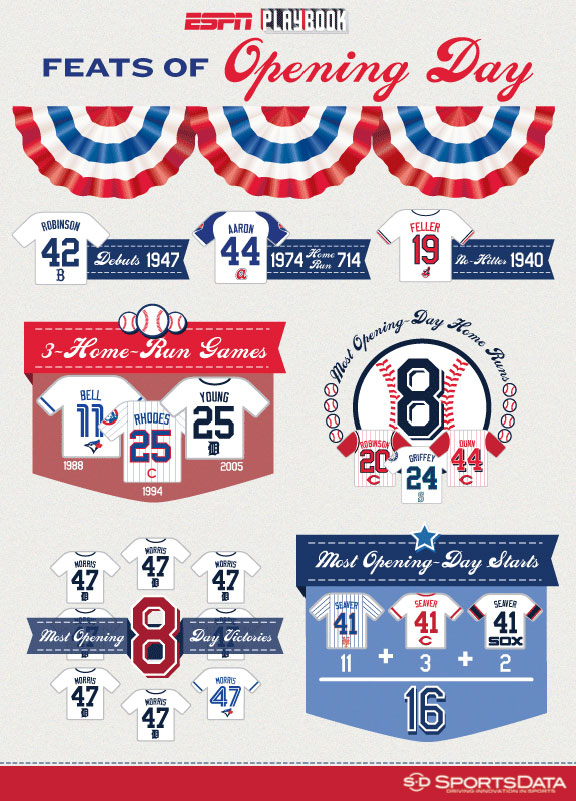 More notes on the above accomplishments:
Jackie Robinson's debut -- April 15, 1947
Baseball's color barrier was shattered when Robinson set foot on the Ebbets Field diamond 66 years ago. He played first base, batted second in the order and went 0-for-3 with a sacrifice bunt. He also reached on an error and grounded into a double play as the Dodgers beat the Boston Braves 5-3. Robinson started every game into September for Brooklyn, and finished his rookie season with a .297/.383/.427 (BA/OBP/SLG) line and a league-leading 29 stolen bases. The rest, as they say, is history -- and this is one time when that cliché is perhaps an understatement.
Hank Aaron hits No. 714 -- April 4, 1974
In the top of the first inning at Cincinnati's Riverfront Park, Aaron drove a Jack Billingham pitch over the left-field fence for a three-run homer -- his first swing of the season. Aaron got three more plate appearances, then sat out Game 2 before returning to the lineup in the series finale, giving him six more chances to break Babe Ruth's record on the road. However, much to the delight of Braves fans and MLB commissioner Bowie Kuhn (although he'd never admit it), Aaron left Cincinnati stuck on 714, then broke the Babe's mark in his first home game of the season, against Al Downing and the Dodgers on April 8.
Bob Feller's no-hitter -- April 16, 1940
Already firmly established as the Indians' ace after a 24-win season, Feller took the hill at Chicago's Comiskey Park on Opening Day and was literally unhittable. The 22-year-old right-hander walked five, struck out eight and got the win when his teammates scratched out a run in the fourth inning off White Sox starter Eddie Smith. The Indians went on to win 89 games but finished a game behind Detroit for the American League pennant.
Three-home run games
Toronto's George Bell was the first player to hit three home runs on Opening Day, blasting long balls in the second, fourth and eighth innings against Bret Saberhagen in a 5-3 Blue Jays win at Royals Stadium on April 4, 1988. Bell had hit 47 homers in 1987 but hit just 21 more after his Game 1 explosion in '88.
Next up was Tuffy Rhodes of the Chicago Cubs on April 4, 1994. Rhodes hit just 13 career home runs, eight of which came in 1994, including bombs in the first, third and fifth innings -- all off Dwight Gooden -- in the Cubs' 12-8 loss to the Mets at Wrigley Field.
The last man to do it was Detroit's Dmitri Young, who homered in the second, third and eighth innings in an 11-2 win over Kansas City at Comerica Park on April 4, 2005. The moral of this story, of course, is that if Opening Day falls on April 4, get ready for a parade around the bases.
Most Opening Day home runs
Last year, Chicago White Sox DH Adam Dunn tied Frank Robinson and Ken Griffey Jr. by hitting his eighth career Opening Day home run. It was the first of a 41-homer season for Dunn, who had been tied with Ruth, Willie Mays and Eddie Mathews with seven. Griffey hit No. 8 in 2009 to tie Robinson, who had owned the record by himself since 1975.
Most Opening Day starts and victories
Since 1920, Tom Seaver has made the most Opening Day starts with 16, including 11 with the New York Mets, three with the Reds and two with the White Sox. Jack Morris made 14 straight Opening Day starts, from 1980 to '93, and went 8-6 in those games, giving him one more victory than Seaver (7-2) and Randy Johnson (7-2). Roger Clemens, Juan Marichal and Greg Maddux each won six Opening Day starts.