The Vikings look like the Vikings again -- mostly -- and the Dolphins don't look quite as much like the Dolphins as they used to.
That's the takeaway from Thursday's two NFL uniform unveilings. The Minnesota and Miami uniforms both had been leaked earlier this week, but now we have a much better look at the teams' new uni sets.
Let's start with the Vikings (all images courtesy of Nike).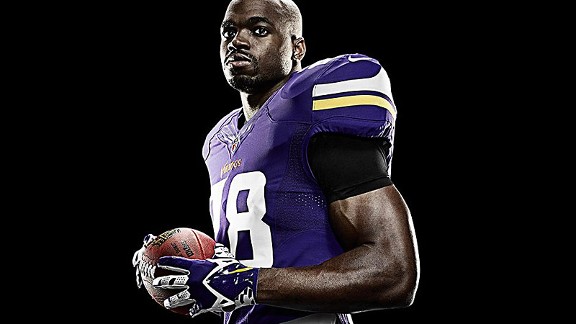 Almost any change would have been an improvement here, given the awful uniforms the team had been saddled with in recent seasons. For the most part, the Vikings are going back to a no-nonsense NFL look but with a few odd details, as follows:
• The number font: The first numeral of two-digit numbers will have curved serifs (or, if you prefer, Viking horns), creating a sort of nested effect. It works well when one of the serifs is adjacent to the curved part of another numeral, but not so well when the serif is up against a pointed part of a numeral. In short: a classic Nike gimmick that promises more than it delivers.
• The sleeve stripes: The top stripe on each sleeve gets thicker as it wraps from front to back. The idea is that the resulting shape looks like a Viking ship -- not a bad concept, at least in theory. In practice, though, most NFL players barely wear sleeves. They just have little scraps of fabric that they strrrrrretch over their shoulder pads. For a lot of the Vikings -- especially the offensive and defensive linemen -- the lower stripe probably won't even be visible, because they'll either trim their sleeve cuffs or tuck them under their pads. So the full effect will be lost.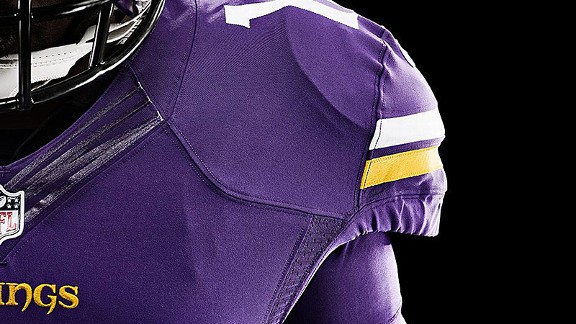 • The pants stripes: Striping on football pants is usually symmetrical, but the Vikes' new pants stripes are asymmetrical. Too soon to assess this -- need to see it on the field first -- but this feels like another case of doing something different just for the sake of being different, when doing it the classic way would have worked just fine.
• The helmet: It now has a matte finish and a black face mask. Personally, I count this as an improvement.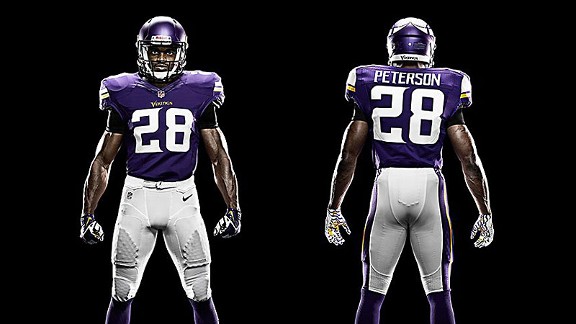 Overall: Not a perfect uniform, but not a bad one, either. And infinitely better than what the Vikings had been wearing. Definitely an upgrade. (For additional photos, look here, here and here.)
Now let's turn our attention to the Dolphins' set, which unfortunately feels like a step backward.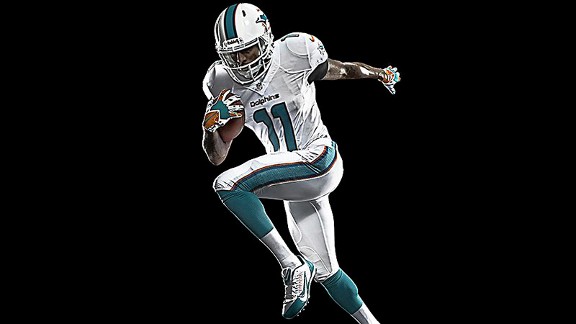 Here's why:
• Where's the orange? The Dolphins' helmets and pants always had really bold, unique stripe patterns, anchored by a center stripe of orange that made the whole thing pop. But the new helmet and pants striping is mostly aqua, with just a hint of orange. The orange outlining on the uniform numbers is less prominent, too. Disappointing.
• The white face mask: Miami's aqua face mask was distinctive. But now the Dolphins are going to have a white helmet shell with a white mask. That's a lot of white, especially for a team that often chooses to wear white jerseys at home (and, of course, usually ends up wearing white jerseys on the road as well). Toss in the smaller orange presence, and you have a uniform that feels too bleached out, too color-less.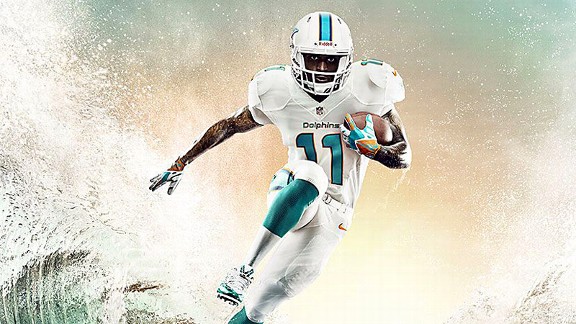 • The tramp stamp: Players will now wear "Miami" on the back of their pants. Come on -- that's a college football move (or maybe a college basketball move). Doesn't belong in the NFL. But yes, at least it's orange.
• The number font: Looks seriously goofy.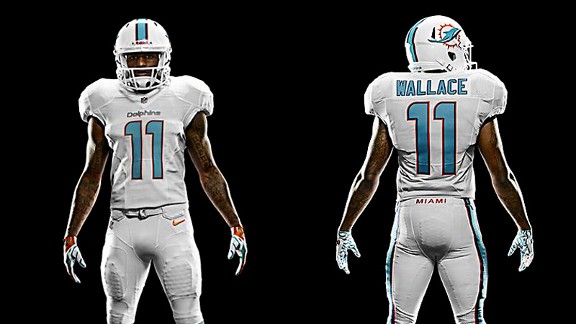 Overall: It wasn't broken, but they fixed it anyway. Too bad.
Paul Lukas can't remember a week as uni-hectic as this one has been. If you liked this column, you'll probably like his daily Uni Watch website, plus you can follow him on Twitter and Facebook. Want to learn about his Uni Watch Membership Program, be added to his mailing list so you'll always know when a new column has been posted or just ask him a question? Contact him here.